The story behind the design of our picture hangers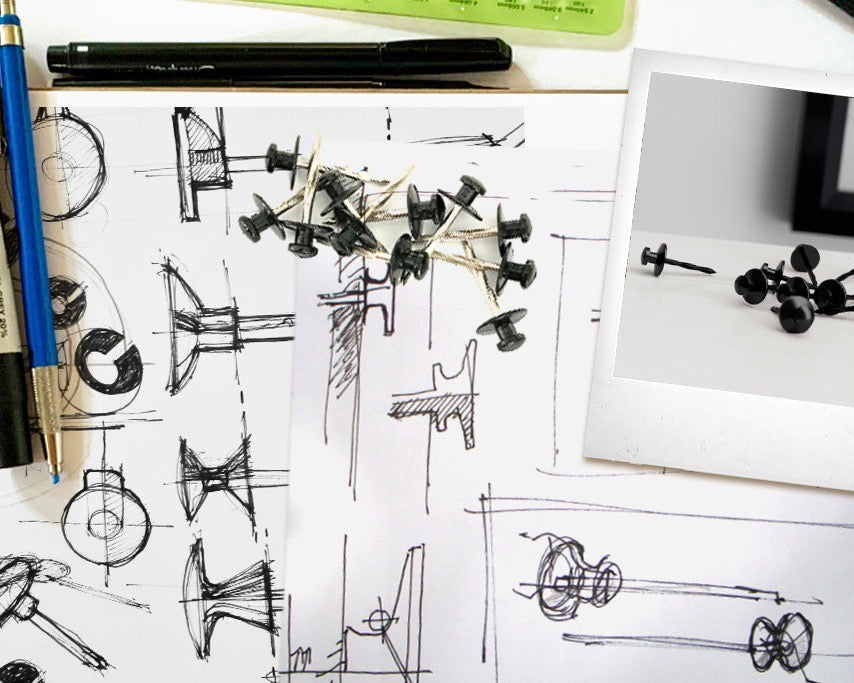 Here at Under The Roof Decorating we are driven by design. We're passionate about inventing new products that focus on solving common wall decorating problems and make hanging wall décor easy, both indoors and out. This series highlights the thinking behind the design features that make our products unique. Learn how the design of our picture hangers enhance the experience of decorating.
A head for all occasions
One thing you may have noticed with a number of our products is that the head used to hang your artwork is the same shape, no matter whether it's on a DécoNail™, DécoScrew™ or DécoHook™. This is not by accident, as we've taken a lot of time to come up with a design for the head that solves some of the common problems associated with traditional hanging hardware.
Less damage, more secure
Have you ever hung a picture on the wall, only to find that as soon as you hang the picture on the nail, it starts to move and tear out the drywall? Well that is a thing of the past as a result of the shape of the head on our hangers. The first thing you notice is a large flat disc that sits flush to the wall. This protects the wall from damage and creates more surface area to handle the strain of the weight hanging on it. 
Making sure that things don't fall off your hanger is equally as important as reducing damage to the wall. Our nails, screws and hooks are designed with a separate lip on the front of the head that creates a groove so your wall décor item doesn't slip off no matter what type of hanging hardware is used on the back of the décor item.
Patented for your protection
Our products have unique designs that are patented, such as the head design which comes standard in our nails, screws and hooks. One of the reasons we use patents is to protect customers. When you purchase a UTR product you can be confident it will work exactly as intended and you get the true value and full benefits of our design features. It also helps customers be sure they are purchasing an authentic product in the marketplace and not an inferior counterfeit.  
Good product design leads to good decorating experiences. When customers use our products and see the value of our innovative designs they realize decorating can be easier, and with ease comes the potential to unleash their creativity and personal style. This makes all the hard work of design worthwhile.
Learn more about product design at UTR Decorating in this series:
Got a question or comment? Reach out to us any time by emailing us at questions@utrdecorating.com or use the live chat feature at the bottom corner of the page. We'd love to hear from you. 
-The UTR Team