How we designed our outdoor hangers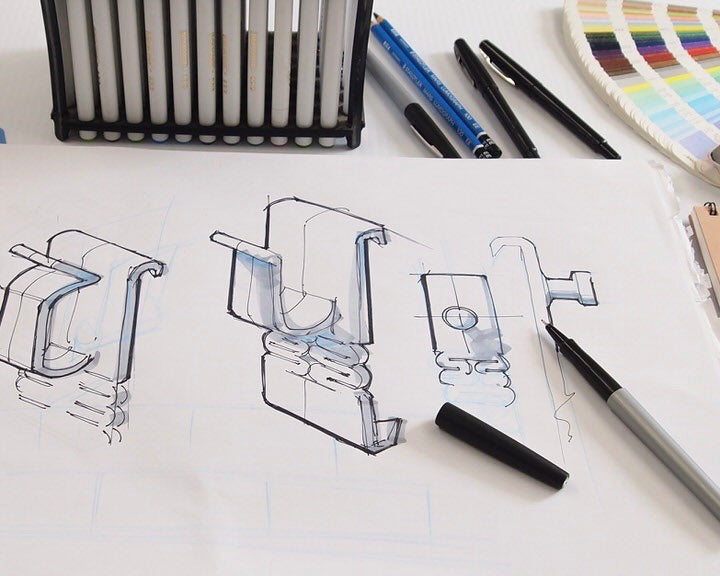 Here at Under The Roof Decorating we are driven by design. We're passionate about inventing new products that focus on solving common wall decorating problems and make hanging wall décor easy, both indoors and out. This series highlights the thinking behind the design features that make our products unique. Learn how our damage free and reusable DécoVinyl™ and DécoBrick™ hangers were created for easy decorating outdoors.
Designing for outdoor living
These days people are spending more time at home and outdoors, which is making decorating your exterior spaces more popular than ever. In the same way we have designed a number of products to make decorating your interior spaces quick and easy, we wanted to turn our attention to outdoors.
Not your usual picture hanger
When we looked at decorating outdoors, the challenges you face when hanging décor are the same as you face indoors - how to get your stuff in the right place, how to hang it securely and how to make sure it stays there, but with a couple of additional considerations. 

Weather would impact the product design, as well as, the wide variety of surfaces used for the side of structures. After a lot of research and observation, we decided to focus on solutions for brick and vinyl siding, two of the most common types of exterior surfaces in North America.
The brick challenge
When turning our attention to hanging stuff on brick, we immediately looked for a way to securely fasten a hook to a brick wall, without having to do any drilling into either the brick or the mortar. We recorded a huge number of different brick samples and decided to use a design that would clamp onto the face of the brick, which would compensate for the slight differences in size from brick to brick.

After considering a number of different mechanical ways to clamp two pieces together, we decided to use the inherent properties of the plastic material we use for some of our other products and design the hanger with an integral spring section that would allow the hanger to stretch for up to half an inch.

Using our 3D printers, dozens of versions of the springs were designed, printed and tested until we arrived at the design that you see in our current DécoBricks hanger. Once we had the means to fasten the hanger to the brick without any tools or damage, we turned our attention to the design of the head.
A head for all seasons
When we were designing the front section of our outdoor hangers, we took into account the most common types of items which would be hung outdoors: lights, wreaths, decorative items either with a D-ring or wire, as well as items that would use some type of keyhole hanger like a mailbox, flowerpot or plaque.

To accommodate these and to make sure that they are hung securely, even in a windy area, we designed a hook with a deep throat to prevent hangers from coming off of the hook. We even created a version for use in high wind areas, which included a clip at the top. For our keyhole hangers, a head similar in appearance and dimension to our indoor hangers was the perfect choice. To stand up to the stresses of outdoor life, all of the hooks use a UV stabilized plastic material to avoid degradation.
Designing for vinyl siding
Vinyl siding is a common and versatile way to clad the exterior of homes, and while there are a number of different profiles and sizes available, they all share a similar method of installation and linking together, and this is what we focussed on as a way of creating a hanger that installs without tools, can be repositioned easily and will cause no damage to the siding.

Getting the geometry of the bent metal on the hanger took some trial and error, and by installing several different sections of siding in the design studio, we were able to test different shapes and angles until we found a solution that snapped securely into the seam between two pieces of siding, and at the same time could be removed without causing any damage.
Create the outdoor space you love
Combined with the heads designed for hanging stuff outdoors, these latest two additions to our product line enables our customers to quickly and securely dress up their outdoor spaces without worrying about damaging their homes. Get some easy tips for using and decorating with DécoVinyl and DécoBrick here and here. 
Learn more about product design at UTR Decorating in this series:
Got a question or comment? Reach out to us any time by emailing us at questions@utrdecorating.com or use the live chat feature at the bottom corner of the page. We'd love to hear from you. 
-The UTR Team