Designing a system for picture hanging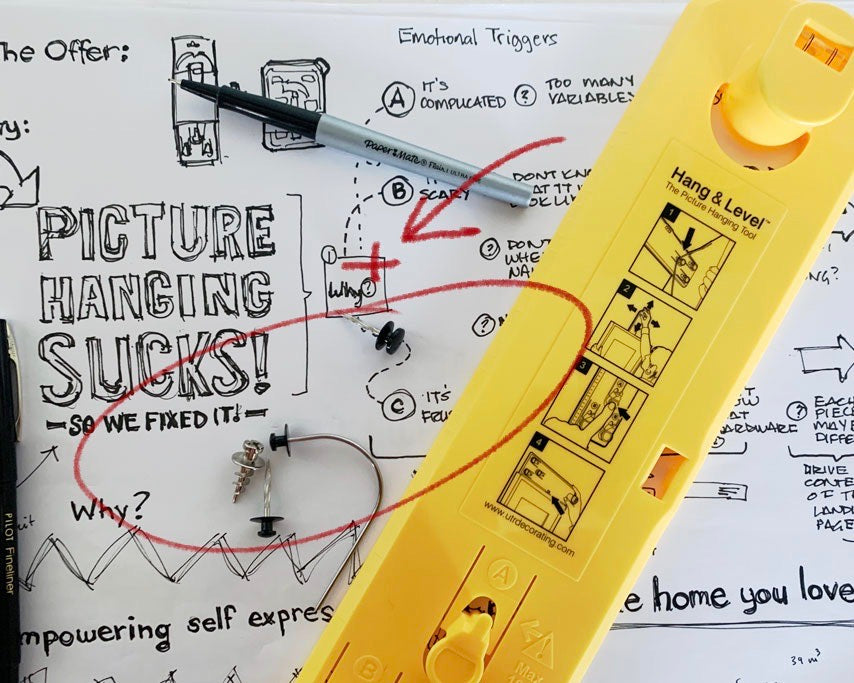 Here at Under The Roof Decorating we are driven by design. We're passionate about inventing new products that focus on solving common wall decorating problems and make hanging wall décor easy, both indoors and out. This series highlights the thinking behind the design features that make our products unique. Learn how unpacking the common challenges of hanging pictures led to simplifying the way decorating is done.
The picture hanging challenge
Hanging pictures is a multi step process, and each step has its own challenges. To begin with you need to figure out where you want to put the picture, and get a sense of what it's going to look like once it's hung. Then you need to figure out where to put the hanger in order to have the picture hang in the right spot, and select the right type of hanger to match your frame. Of course, you want to avoid making mistake holes in the wall, too. Finally, once you've got your picture up on the wall, you want it to be level and stay that way. Well, we have designed a family of tools and hangers that work together as a system to address every part of this process.
Where do I put my picture?
To start, we designed the Hang & Level™ picture hanging tool to let you see exactly what the picture is going to look like on the wall before you make a single mark or hole. It makes it super easy to line up your picture with furniture, architectural details or other pictures around it. 

Once you find the perfect spot Hang & Level marks exactly where to place the hanger, without any measuring or calculating. Thus, mistake holes are avoided.
What hanger do I use?
Each of our hangers is designed to be placed directly into the spot made by Hang & Level, and so the choice of which one to use is really up to you, and also depends on the weight of the picture you are hanging. Whether it's a DécoNail™, DécoHook™ or DécoScrew™, each works perfectly with Hang & Level so your picture will hang in the exact spot you intend. This accuracy is especially helpful for creating gallery walls.  

You can see right away that the head of our hangers is identical. These features are designed to make hanging your pictures secure and minimize the damage to the wall. If you want to learn more about the design of our hanger heads read this blog.
How do I keep it in place?
Once you have your picture hung, you want it to stay in place and remain straight. Our AnchorPoints™ are specifically designed to stick to the back of your frame and anchor it into the wall using tiny metal pins. This means your picture is not going to move no matter whether you are cleaning it, or it is in a high traffic area. Other features designed into AnchorPoints make them 'disappear' behind the frame and leave only a tiny hole in the drywall.
The system that works together
Together, this group of products solves all of the picture hanging challenges right from the beginning of the process all the way until after you've successfully hung your picture on the wall. It's this kind of systematic design approach to the whole problem that makes our products and decorating process unique.
Learn more about product design at UTR Decorating in this series:
Got a question or comment? Reach out to us any time by emailing us at questions@utrdecorating.com or use the live chat feature at the bottom corner of the page. We'd love to hear from you. 
-The UTR Team