Designing Better Picture Hanging Tools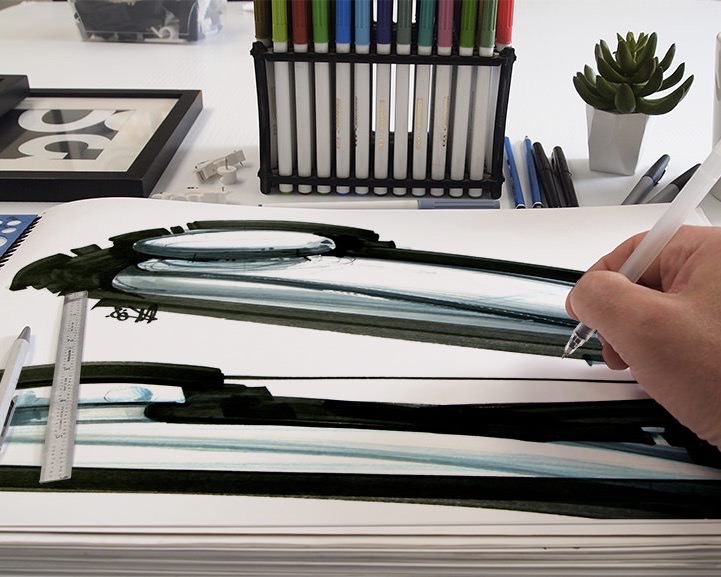 Here at Under The Roof Decorating we are driven by design. We're passionate about inventing new products that focus on solving common wall decorating problems and make hanging wall décor easy, both indoors and out. These  innovative tools in the hands of our customers are transforming how picture hanging is done.
Tools designed to simplify wall decorating 
We create unique products so you can hang your wall décor like a pro, on your own and without all of the hassles of the traditional methods that haven't changed in over a hundred years. Each of our products are designed to work together and address every step of the picture hanging process. (Our How to Hang Three Pictures blog shows how easy it is to decorate using our patented products.)
We also design new ways to hang wall decor that are a total departure from traditional methods and hardware. Our Place&Push® hanging system eliminates the hassles of hanging wall décor by reducing it down to only two simple and elegant steps. Place the item on the wall, and push it into the drywall for a secure hold. That's it!
Try it out for yourself with our new CanvasHangers™ - the easiest way to hang a canvas. Period. Click here to shop now.
Easily decorate outdoors
Creating a space you love isn't limited to hanging indoors on drywall, and neither are our hanging solutions. We've designed our DécoBrick™ and DécoVinyl™ hangers to make it quick and easy to decorate your outdoor spaces without any tools or damage. 
Unleash your creativity
The innovative products we make help people express their style and creativity through decorating, which is possible by our commitment to design. It can take anywhere from months to years to see an idea through to fruition, and only a small fraction of the proposed designs ever make it to store shelves. For us, it's worth the investment. When customers have those aha moments realizing there is a much better way to decorate, we know our products have fulfilled their design promises.
Learn more about product design at UTR Decorating in this series:
Got a question or comments? Reach out to us any time by emailing us at questions@utrdecorating.com or use the live chat feature at the bottom corner of the page. We'd love to hear from you. 
-The UTR Team