Wow! What Paint Colour is That?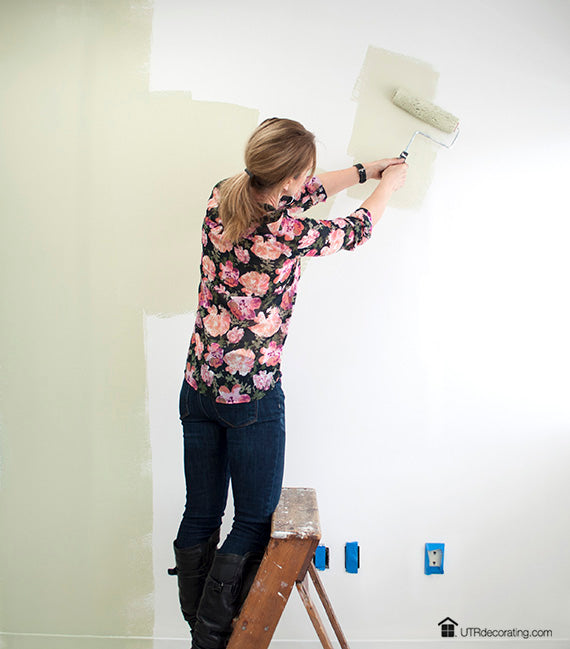 Choosing that perfect paint colour for your house can be tricky, and although paint is the easiest way to update a room it can be a seriously nerve wracking experience! What if you make a mistake and pick the wrong colour? One great tip to keep in mind is instead of focusing on the entire house, identify the purpose of each room and choose a colour that fits the activities that will be done in each space. For instance, we were looking for a paint colour for our reading nook so our search ended up focusing on finding a soothing calming colour. 
Get Inspired! 
Choosing a colour when you're at the store can be overwhelming when there are hundreds of paint chips to look at. Instead of going in blind, get some inspiration from a rug, a painting, a cushion, or any other accessory that is in the room being painted. We got our paint colour inspiration from this little floral treasure box.
Wow! What colour is that?
We wanted a paint color that was tranquil and calming for our reading nook and we found color inspiration in this pretty little floral box. We got several paint swatches and ended up picking Para H035. 
Painting tip
When painting, don't load up the rollers too thickly with paint in the hopes of getting the job done quicker. One coat of paint is simply not enough. The white will still show through, not giving you the true essence of the colour. Since paint dries quickly, it takes about an hour to get two coats of paint done, including a half hour between each coat for drying.
Taking pictures of your space will come in handy while you're at the store, allowing you to use them as a quick reference point when shopping for colours. 
It's a perfect match!
As you can see, the paint colour matches the swatch perfectly! This gives us (the homeowner) peace of mind when choosing a paint colour knowing that what we see on the chip is exactly what we'll will be seeing on the wall!
If you feel like you need a little help choosing paint colours for your house, consider hiring a paint consultant. Most large stores have someone in-house, and if not, they'll likely be able to recommend you someone.
Ta-da! 
We LOVE the results of this sage green, the real name is Annapolis Valley Tint! It gives that Shabby chic style that is so elegant and fresh – perfectly suited for a quiet reading nook. Do you like it? If you want to see more gorgeous pictures of this space, click here!
There is a large window in the space, and it's amazing how different the paint colour looks at different times of the day. Something to keep in mind when choosing a colour - how much daylight do you get in your space?
What do you think of this wall colour? Tell us in the comment box below!
Thanks for dropping by! ......Got the inspiration from.....
Reviews (1 comment)