Decorating tips to hang picture frames like a pro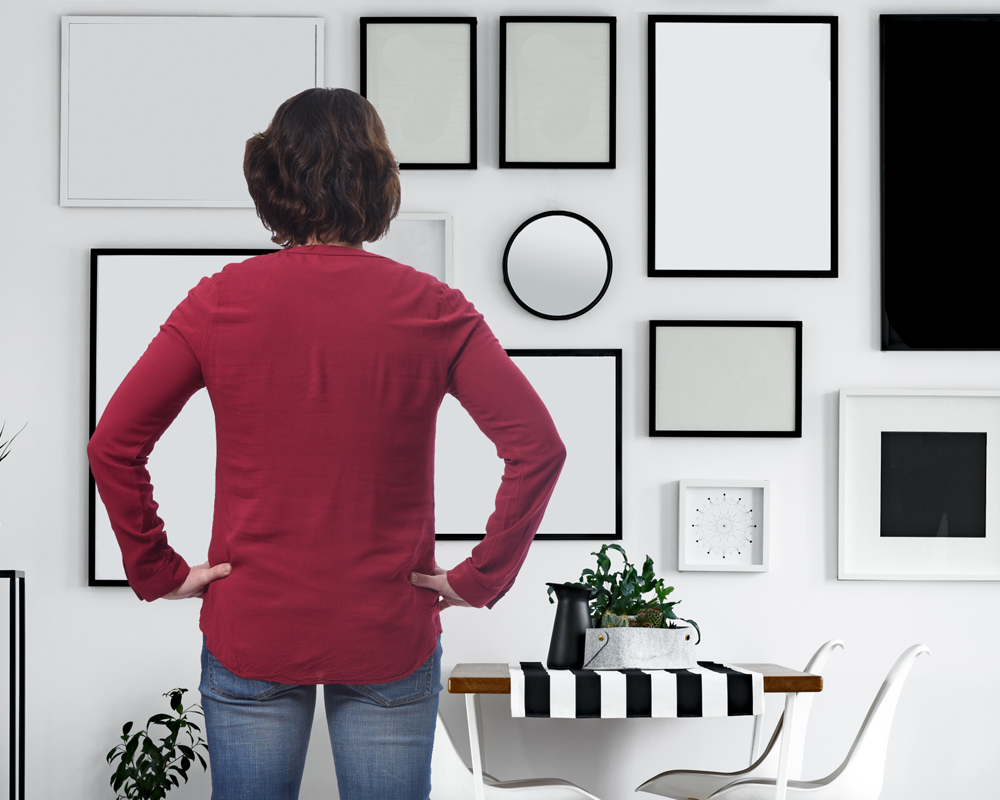 Hanging pictures is one of those great skills that you can use all through life. And, it doesn't have to be hard to do. We designed Hang & Level™ to mark exactly where the nail goes. Use it to easily hang a single frame or collection of frames in minutes. With Hang & Level and these decorating tips you can hang pictures like a pro in any room of your home!
Mark exactly where to put the nail
Every decorator, from beginner to pro, needs this tool in their kit. We designed Hang & Level to take the frustration and guesswork out of hanging wall décor. It's so easy to use. Place your frame on the hook. Take the frame and tool to the wall. Test out a few spots where you want to hang your picture, and when you find the perfect spot, then remove the frame and press the button to mark exactly where to put the nail. Use Hang & Level to hang a single décor item or create an entire gallery in minutes. Watch this Hang & Level playlist on YouTube to learn more. 
How high do I hang my pictures?
The height to hang pictures depends on whether you will be viewing them while standing or sitting. When standing, you want the line of sight to be at the middle of the picture, which is about 60 - 66 inches from the floor. To find the right height for an item that will be mostly viewed when seated, have someone hold up the picture on the wall and pick the height that is the most comfortable without having to look up too high.
How do I hang my pictures over furniture?
For a pleasing look, anchor your art with your furniture. Select art that is at least two thirds the width of your furniture, so it looks balanced. If the piece you want to hang is too small, then add something with it to fill up the space. A general guideline is to leave about 6 - 10 inches above the back of a sofa, bed headboard or dresser. Play around with the placement to see what looks best to you. It's a great idea to put out any accessories you are going to use on the furniture so you can pick the best height with those items in place. 
Gallery wall tips and tricks
Pick a theme for your collection so that all the pieces work together to tell a clear story. You can select frames that are all the same or a combination of different sizes, colors and profiles. Lay your collection out on the floor and try a few different arrangements until you find one you like best. Keep the spacing between the frames the same for a balanced look. We usually use about 2 - 5 inches, but again use what looks best to you. Consider the collection as one unit, and center it on the wall using the tips in the beginning of this blog. If you want to learn more read How to hang a gallery wall: your step by step guide. 
We love designing products to make decorating easy. Click on the live chat below or email us at: questions@utrdecorating.com, and we'll do our best to help you Create the home you love™
-The UTR Team