Using CanvasHangers™ vs other hangers to install canvas art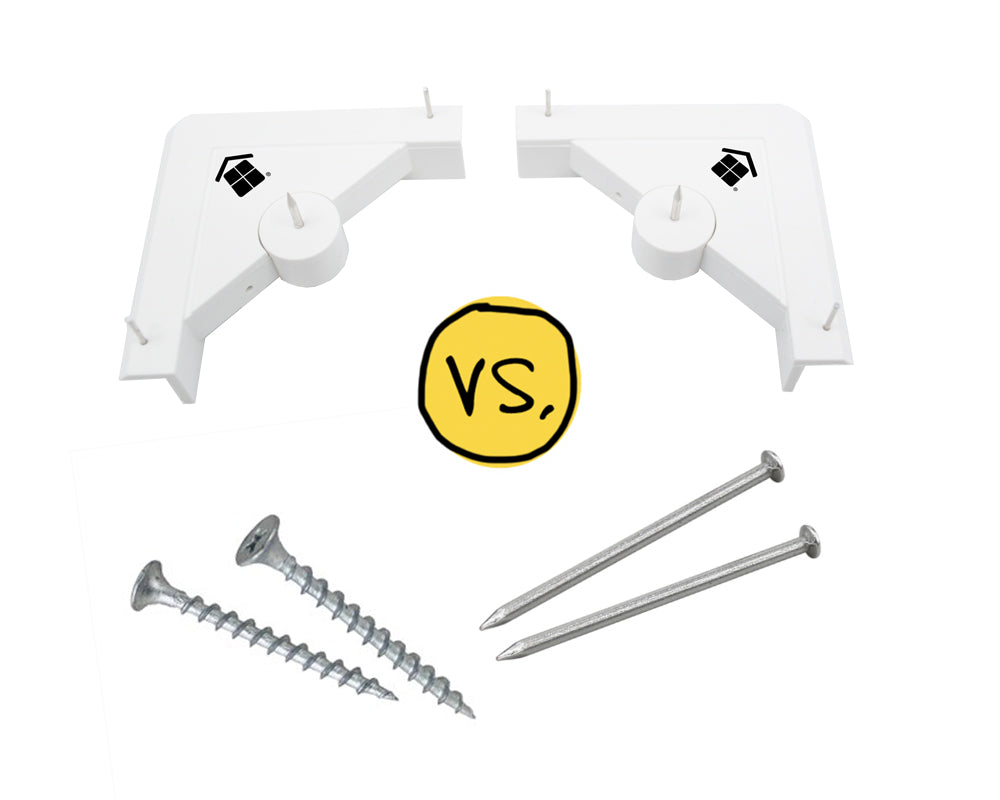 CanvasHangers™ are designed to be the best way to hang a canvas in drywall. They have several unique features that make them easy to use so you get a great result. Here's a few of the ways that they differ from other solutions out there for hanging a canvas art.
What are the options?
Traditionally, canvas artwork is hung using nails or screws, after a hanging system is added to the frame. Sawtooth hooks and D-rings are common, as well as picture wire. There are even a few specialty hangers intended for hanging canvas. While these solutions will enable you to put the canvas on the wall, they do have some inherent disadvantages, including being difficult to locate on the wall in a precise spot, not allowing the canvas to hang flush to the wall and not staying in place once it's up there. 
The CanvasHangers™ advantage
CanvasHangers are designed specifically for hanging canvas art in drywall. Their unique design and engineering make them the best and easiest way to hang your canvas. Period. Here are three reasons why:
1. Hang your art visually. Once you install your CanvasHangers into the frame of your canvas, you simply take your canvas over to the wall, position it where you want it to hang and push it into the wall. No measuring to figure out where the nails need to go, you just hold it in place until it looks good to you. 
 
2. Keep your canvas flush. Unlike other hanging solutions, CanvasHangers keep your canvas flush to the wall. Their low profile gives you a small and even shadow line down each side for a professional look.

3. Stops canvas from moving. Because you are hanging your canvas on two points instead of one, CanvasHangers keep your canvas from moving on the wall. Even in high traffic areas, or when you are dusting or cleaning your canvas, they stay put. 
Place. Push. Done!
Using CanvasHangers is simple. Install the hangers in the top two corners of your canvas by placing them inside the corners of the frame, and securing them with the two small nails. The center pin should be pointing away from the canvas, towards the wall.
Once the hangers are installed, take the entire canvas over to the wall where it will go. With the pins pointing towards the wall, position the canvas in the exact spot you want it to hang, making sure it's level.
When you have it in the right spot, move your hands up to the top corners of the canvas and firmly push them into the wall. Note that if you have a big or awkward canvas, you can easily push in one side of the canvas and then move over and push in the other side. 
That's all it takes - Place, Push, Done!
CanvasHangers make hanging a single canvas super simple, and where they really shine is when you hang multiple canvases together in a gallery. No measuring or guessing whether they'll line up the way you want. Just place, push and you're done.
Moving or re-hanging your canvas
There may be occasions where you need to remove your canvas from the wall. For example if you are moving, or repainting the wall or even if you just want to change the location of the artwork to keep things fresh. You can remove your canvas without damaging the wall by pulling it straight from the wall. 
If you are not rehanging it immediately, simply snap the center pin out of the hanger and safely store the pin into the hole on the side of the hanger. Once you are ready to rehang the canvas, snap it back into the hanger with the pin pointing out and you are ready to go!
Made for drywall
We designed our CanvasHangers to work securely in drywall. They have been engineered to hold up to 20 lbs (9kg) which is well above the typical weight of even the largest canvases. Because they have been designed to be used in drywall, we don't recommend they be used in harder wall surfaces like plaster, wood or cement.
Patents protect customers
Protecting our products with patents is an important way that we can protect our customers. When you purchase a UTR Decorating product you can be confident it will work exactly as intended and you get the true value and full benefits of our design features. It also helps customers be sure they are purchasing an authentic product in the marketplace and not an inferior counterfeit. Find out more here. 
Decorating, simplified™
We love making it easier for everyone to decorate their homes. Since designing the first Hang & Level™ we've created a full line of products that help save time, walls, and even relationships. When the decorating process is simplified, it becomes easy to Create the home you love™
Our products are designed to make decorating easy. Click on the live chat below or email us at: questions@utrdecorating.com and let us know how we can help. Happy decorating!
-The UTR Team
Reviews (2 comments)