Use wall décor to express yourself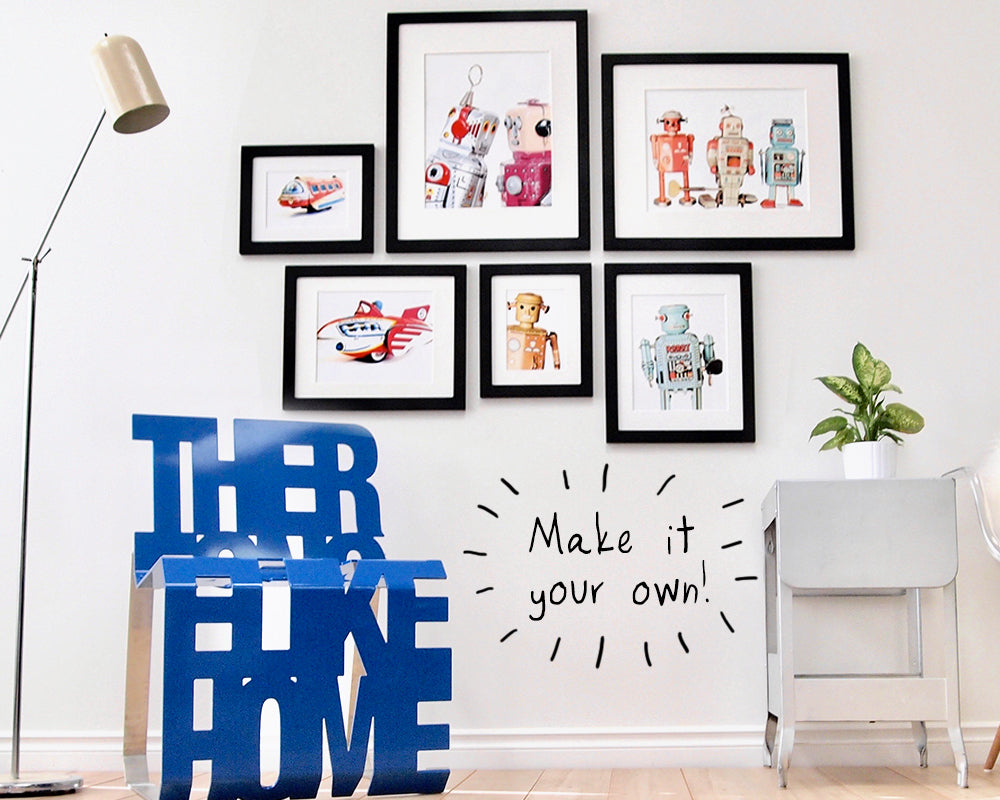 Hanging wall décor brings so much life to a space. And, inspiration is easily available across all kinds of media. But what if you let your own passions and interests guide your decorating choices. Learn to unleash your creativity and design spaces that truly speak to you.
Hang what you love
Seeing what others have done can be an inspiration, but think about what appeals to you and use that as a guide to assemble your own story for your walls. And, you don't need to limit yourself to just pictures or canvas art - there's a whole world of stuff that can be hung on your walls, get creative and don't be afraid to try different things. Express your own style by hanging what you love and feel the joy it brings to your day to day.
Show your interests
Your walls are an open canvas, ready to be filled with the things that inspire you and matter most. Use them for self expression and to share your interests with others. Wall décor can be created so easily these days with print on demand services, ready-made frames and DIY stores with lots of products to help us be creative, so it's easy to turn hobbies and interests into art you can hang. Show off the pieces you pick up on your travels or from the spots where you spend time enjoying life. Scout out the work of local artists for something that is truly unique.
Next level - create a vignette
Got stuff? You've got a story! For even more impact, use your wall art to make a vignette. Decorators use vignettes all the time to create interesting spaces and focal points in a room. They sound complicated, but are really quite simple to pull together. Start off with identifying a theme for your vignette. It can be subject matter, scale, shape or color to name just a few options. For example, maybe it's your love of sports, that trip you took to New York City or a collection of antique frames. Curate a number of different items that speak to the theme, such as: wall décor, furniture, sculptures and accessories - and arrange them together as a unit. Check out our easy steps to create vignettes at home. And, watch our short video on how to create a vignette. 
Curate a vibe that moves you
Wall décor can really influence the mood or vibe of a room. Picking the right pieces can make a space feel anything from dark and moody, to bright and energetic. By far the biggest element influencing the mood in a space is color. Darker, heavier colors can create a sense of intimacy, coziness and drama. Bright and neutral tones can awaken feelings of calmness and serenity. Use bright, saturated hues to inject energy and vibrancy into a space. Consider the overall color palette of your wall décor when creating a mood in your space, whether it's by hanging a single large piece, or filling up an area with a variety of wall décor items. Define the feeling you want to have when you are in the space, and find items that evoke those sensations in you.
Hang wall décor like a pro
Once you've found the art and wall décor pieces you find meaningful, then the next step is hanging them so they look good. Whether you are hanging a single piece or a collection of items, having the right tools makes the job easy. We've designed a full line of products that simplify picture hanging. Here's a few of our favorites:
The best way to hang canvas. Period.
With CanvasHangers™ we've reinvented how canvas art is hung. Simply install the hangers on the top two corners of the canvas. Take the canvas to the wall and place it where you want it to go. Make sure it's level, and then push it into the drywall for a secure hold of up to 20 lbs. Place. Push. Done!  
The picture hanging tool and fasteners
Use Hang & Level™ to mark exactly where to put the nail, so you won't make any mistake holes. It's especially helpful when hanging multiple items together. Read this post to see how easy it is to create a gallery in minutes. Once you find the right spot to hang your item, you want it to be secure. We have a full range of fasteners with a number of special features for picture hanging - and many more products that simplify decorating. Check out all our products online.
We love designing products to make decorating easy and help people create spaces that bring them joy. Click on the live chat below or email us at: questions@utrdecorating.com, and we'll do our best to help you Create the home you love™
-The UTR Team