How to hang outdoor string lights on vinyl siding without damage or tools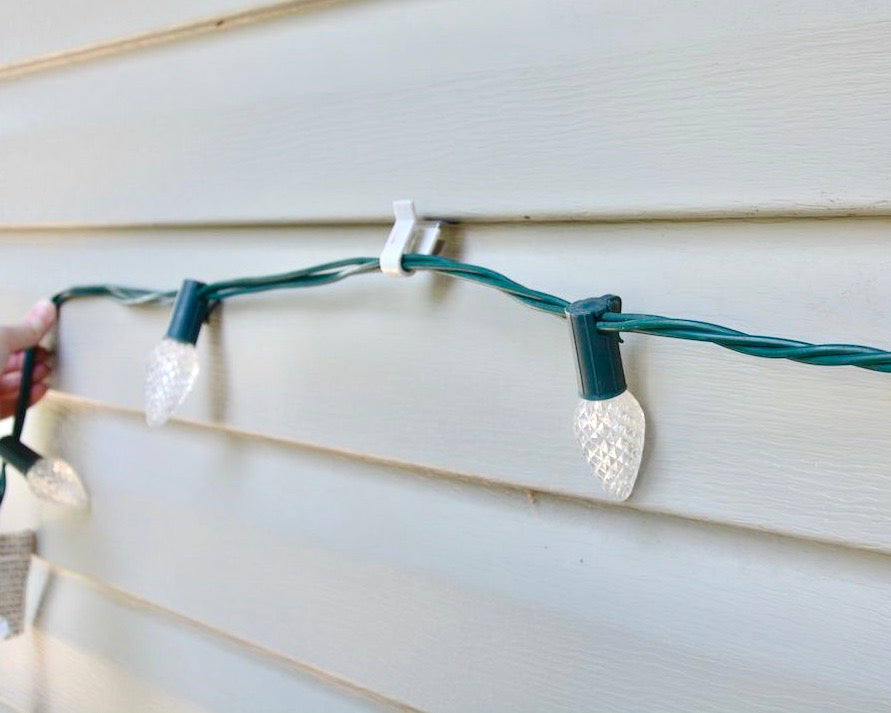 Learn how to use this easy, no damage solution to hang outdoor string lights in minutes. We designed DécoVinyl™ hangers to overcome the challenges of drilling and making holes in your vinyl siding. Use them to hang all kinds of seasonal décor such as string lights, wreaths, clocks, signs, mailboxes and more.
Easy to install and adjust 
DécoVinyl hangers are installed in the seam between two pieces of siding, no tools needed. Using your fingers, simply clip the metal hook into the seam until you feel it snap into place. That's it! They are easy to adjust to the right spot by sliding them along the seam. 
Hang string lights in minutes!
Don't be surprised if it takes you longer to unpack or untangle your lights than to hang them! Getting the lights securely hung with DécoVinyl hangers is fast and easy. First, install a number of hangers along the seam at the height where the lights will hang. Then, place the light strand wire over the hooks, and adjust the position of the hangers along the seam so that the lights hang close to a hook to provide extra support. Watch this video to see these easy steps in action.
Project tips
Here are a few tips we've learned about hanging string lights. Vinyl siding is secured with nails, so avoid these areas when installing or adjusting the hangers. Some lights come with clips, however, we've found it much easier to use the wire strand for hanging. Finally, keep the strand taut, but not too tight. The strand will move slightly with the wind and if it is too tight it can pop out the hangers.
Easy to remove and reuse
DécoVinyl hangers are easy to remove by reversing how you installed them. They can be used again and again for other decorating projects, making it fast and easy to change your décor with the seasons.
Two head styles to hang all your décor
DécoVinyl hangers come in two patented head styles - button and hook. The button head works well for décor with a keyhole, such as mailboxes and clocks. The hook style head works best for items that have picture wire or D-rings, such as wreaths - and is perfect for hanging string lights. Both head styles securely hold up to 15 lbs (7 kg) on vinyl siding. 
We love designing products to make decorating easy. Click on the live chat below or email us at: questions@utrdecorating.com, and we'll do our best to help you Create the home you love™
-The UTR Team