Tips and tricks for using Doree™ doorstop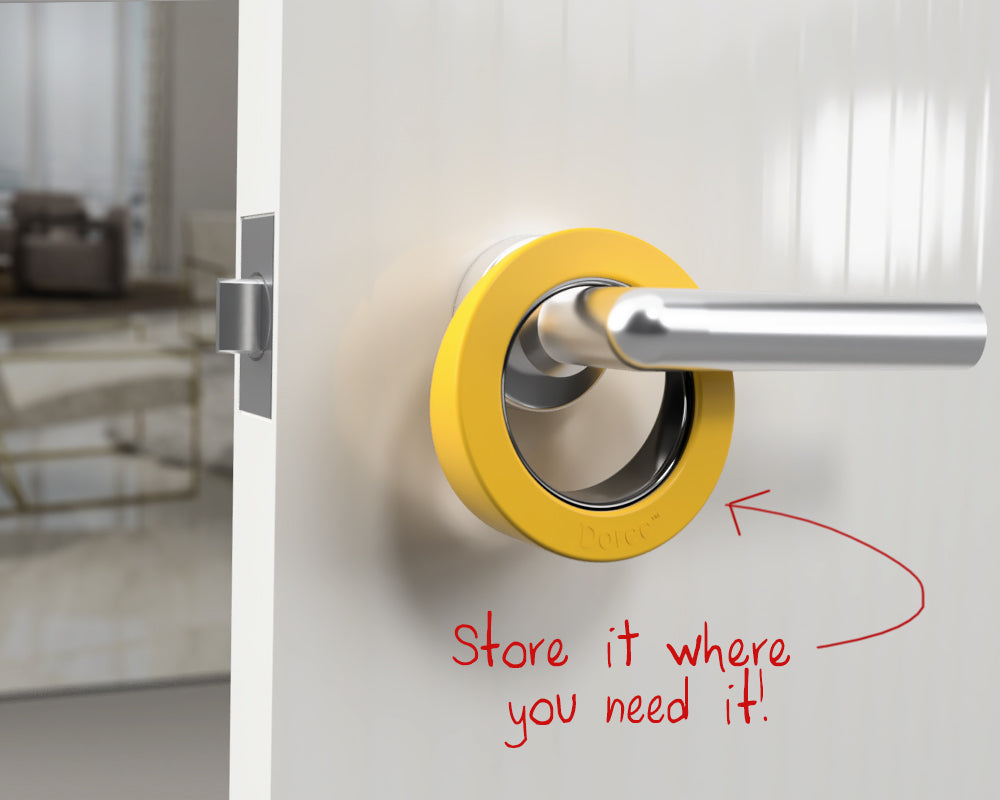 When we set out to design Doree™, we wanted to make a doorstop that was easier to use than a traditional stopper. We created a circular, wedge shape design made from a hypoallergenic rubber that is both easy to use, and holds the door firmly. Here are some tips for getting the most out of your Doree.
Store it on the handle
We typically don't think about a doorstop until we need one, so they are rarely close at hand. Because of Doree's circular design it can be stored directly on the door handle so it's always ready to go. Then to install Doree, drop it to the floor and roll it into place with your foot. This no-bend installation is truly a unique feature of Doree.
Restore the stick
Doree is made from hypoallergenic TPE, a type of recyclable rubber with a grippy surface that helps along with the wedge shape to create a strong hold. As Doree is used and gets dusty or dirty it can lose some of its grip. To restore the stickiness of the rubber all you need to do is clean Doree with hot soapy water.
Fits different gaps
Most doorstops are used where there is less than 1" gap between the door and floor. Doree works really well in these small gaps. For spaces that exceed 1", just stack two Doree's together to fill medium or large sized gaps up to 2".
To get a better fit, you can rotate the Dorees on top of each other to adjust the angle under the door, making for a firmer hold.
We love designing products to make decorating easy and help people create spaces that bring them joy. Click on the live chat below or email us at: questions@utrdecorating.com, and we'll do our best to help you Create the home you love™