Using Hang & Level™ on hard surfaces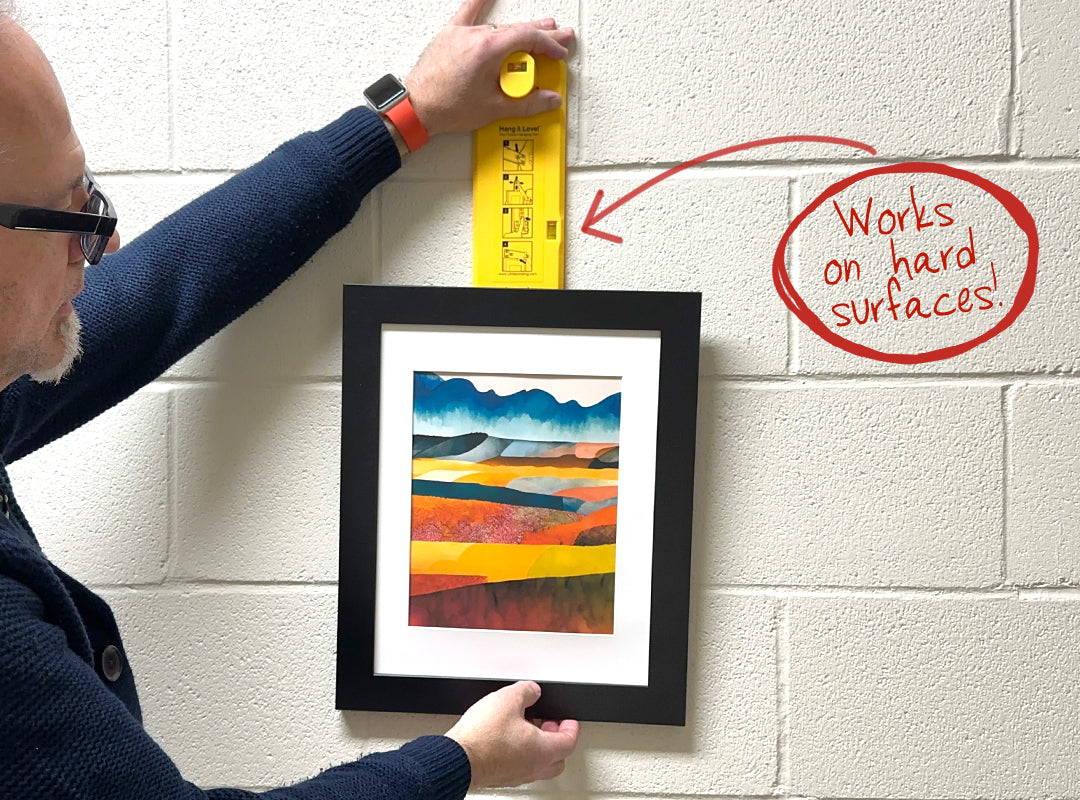 We designed Hang & Level™ to mark exactly where to put the nail when you hang your picture in drywall. You can use it for hard surfaces too, such as concrete, cinder and plaster. To do so, we added a simple step when using Hang & Level on hardwall so it's easier to see the mark. 
Using Hang & Level on hard surfaces
Hold the picture in the general area you want it to hang and take a mental note of the area where the fastener will be placed. Don't worry, you don't have to be super accurate.
Place a few strips of Painter's tape in the area you think the hanger will end up. When you use Hang & Level, it will mark the spot for the fastener onto the tape. Make sure to press lightly when adding the tape, if it's pressed too firmly into the wall it will be hard to see the mark.
With Hang & Level, it's easy to hang your picture visually. You can try a few different spots until you find the place where you want the picture to hang. No measuring and no mistake holes!
Place your picture on the tool. Take the picture and tool to the wall and move it around until you find the right spot for it to hang. Remove the picture while holding the tool in place. Press the button to mark exactly where to put the fastener.
The mark on the tape will be faint, but definitely noticeable. You can use a pen to make the mark more visible. Using the mark as your guide, you can drill a hole to install your hanging mechanism for hard surfaces, such as a screw or an anchor.
That's it! Now you are ready to hang your picture. No measuring, no mistakes holes - and the picture hangs exactly where you want it, even on hard surfaces. Happy decorating!
We love designing products to make decorating easy and help people create spaces that bring them joy. Click on the live chat below or email us at: questions@utrdecorating.com, and we'll do our best to help you Create the home you love™
-The UTR Team