Quick Holiday Decorating Idea: Framed Cards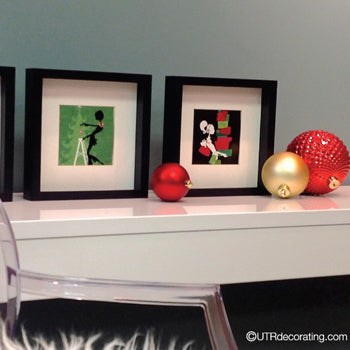 Here is quick and easy holiday decorating idea to bring some festive style to your home. Have you ever received a holiday card that's so beautiful that you don't want to throw it out once the season is over? If you've received some especially design-savvy cards (or see a few in the store that you love), it's easy to make them a more formal part of your holiday décor.
Just find three identical frames (we chose black for this project, but any style will do) and three cards that work well together. Pop the cards in the frames and display them with some well-placed Christmas ornaments to create a festive vignette. This works well on on a table, mantle, dresser or shelf, or you can also hang the frames on a wall.
I used a small piece of clear tape at the top and bottom to hold the photo in place. No need to over do it as the backing and glass keep the layers tightly together. That's it! Easy peasy! 
This project will take a matter of minutes to put together. Best of all, if you use frames and ornaments you already have along with recycled cards, it will cost you virtually nothing.
Do you have any quick holiday decorating tips that you'd like to share?
Liette Tousignant
Co-Founder of Under The Roof Decorating
Make sure to sign up to receive our decor and design blog posts delivered straight to your inbox.