Create a Focal Point with Big Bold Art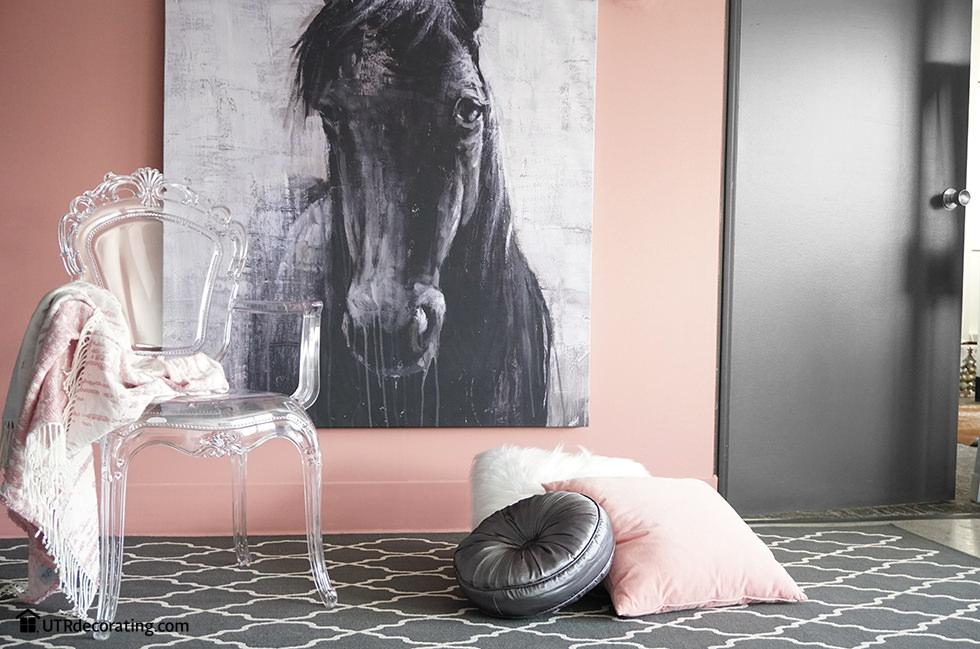 One of the easiest ways to give a space that 'WOW' factor is with art! With a stand-out focal point, guests won't forget your house and will remember that canvas or painting (along with your great hospitality, of course!)
Despite the girly chair, blush wall, and fluffy pillows, this space doesn't come across as overly feminine. Each piece that was used fits perfectly together, giving us a vibe we love! Below we have shown what the wall would look like with the canvas hanging on it instead of leaning on it. Both options, leaning or hung, are equally stylish and fun!
We started with this beautifully colored blush wall and a classic patterned grey and white rug. Our first piece that we brought in was this large canvas, of which you may think looks heavy but it is actually very light!
Before you start hammering, make sure to test different heights for your piece, keeping into consideration what accessories you'll be adding into the room. A bench, table, or storage chest would likely require you to increase the height you would want to hang the canvas. In our case we just wanted to place a chair and a few cushions in front.
After finding the middle of our wall, we centered the horse on it with the bottom of the canvas being 1' away from the floor.
To hang the canvas, we used our CanvasHangers, and fastened one hanger to each top corner. They can hold up to 20 lbs so it's perfectly safe to use them in this case considering that this piece is very light! (Watch this quick video to see how they work!)
The CanvasHangers come with a small level to help you hang your piece perfectly straight. Once the canvas was in the exact spot, we pushed the right corner in first and then the left. If you are hanging a smaller canvas you can push both corners in at the same time!
Note how flush against the wall the canvas is? If we had hung it the traditional way using 2D rings and screws the piece would be tilting forward. Our way, with there being two points of contact on the wall, we will always have our horse hanging straight. It's pretty magical, right? (we certainly think so )
After you are done pushing both sides in, remove the level and you're done! Ta- da!
After you are done pushing both sides in, remove the level and you're done! Ta - da!
By the way, this canvas was hung by one person without the need for any complicated tools. A helper is only needed to help you judge the desired height of the artwork before you secure it to the wall.
As you can see both versions of the canvas, resting against the wall or hanging, look equally gorgeous. It's all a matter of personal preference, lifestyle and the atmosphere you want to create! (If you have little ones or pets exploring your home, keep in mind that it would be safer to hang.)
For our final additions, we chose a Lucite chair so that we would be able to see the canvas through it! The pink and white throw works seamlessly with the blush wall and array of cushions. The colour palette is pretty simple: grey, white, and pink! Don't worry, the colours don't have to be a perfect match to work. By the way, despite what the trends say, we don't think that pinks will ever go out of style. If you love something, don't worry about what is supposed to be 'in'. Just do it! After all, it's your home, your rules.
For those of you who love numbers, the measurements were as follows:
Canvas Size: 47" W x 59" H
Bottom of Canvas to Floor: 12"
To buy or for more info about our CanvasHangers, check out our online store.
What do you think of this space? Let us know in the comments section below.
Thanks for hanging out with us!