Wow! What paint color is that?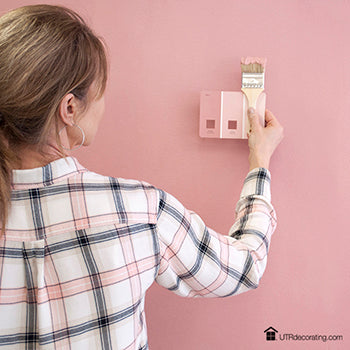 I know, we've seen tons of pink hues in last few years but personally, I was not ready to move on to another color until I had my own pink wall. Whether you call it pink, blush or rose, it's feminine without being too girly. When you think pink, don't think for a second that this special spring color is limited to little girls' rooms. No way! Check out which wall we transformed with this super fab color and the surprising place my inspiration came from!
First of all, let me address the pretty pastel plaid shirt I'm wearing. Someone on Instagram asked me if it was a coincidence that I happened to be wearing it the day we painted this wall. Nope, not a coincidence! Admittedly, I have this thing with matching outfits with the colors I'm working with. It's fun and if the color is good enough for a wall, it's good enough for my fashion choices too. Right?  
Where did the inspiration come from?
I was at a bookstore recently and I was absolutely amazed to see all of the pretty pastel colors. Since Spring is just around the corner (I hope) I thought that painting a wall in a springy hue would give our office a much welcomed burst of color. So, I bought the pencil pouch and went straight to the paint store.
I picked up a bunch of paint chips at Lowe's that matched most of the pink-ish shades from the pencil pouch. Once back at the office, I taped the chips to the wall and looked at them sporadically throughout the day. Since we get tons of sunlight on that wall, I figured that the darkest color, blush, was the best choice.
Wow! What color is that?
I hope HGTV magazine won't mind me using this popular line that they use as a feature in their monthly magazine, but that's the reaction I get… Wow! The color I ended up choosing is Gilman Rose, a pinky blush.
Once the color was picked, it didn't take long to paint and decorate. Within a couple of hours, the wall went from plain white to charming blush.
As you can see, the paint color matches the paint chip perfectly. This gives me peace of mind when choosing a paint color knowing that what I see on the paint chip is exactly the color my wall will be. The pencil pouch looks amazing against the rose wall, I almost feel like hanging it.
By the way, this is not a sponsored post, I just love the color. All opinions are mine, only mine.
I LOVE the results. It's that shabby chic style that is so elegant. By the way, this is an IKEA dresser that was originally fitted with plain drawer knobs that we switched out for more stylish ones. Do you like it? If you want to see more gorgeous pictures, click here.
Also check out this beautiful gallery of 12 frames we hung on this beautiful wall and the floral art we made. It's absolutely gorgeous. See for yourself.
What do you think of this wall color? Love it? Hate it? Don't care? Tell me, I want to know. Share in the comment box below.
Talk later,
Liette Tousignant