Transform your at home workspace: helpful tips and inspiration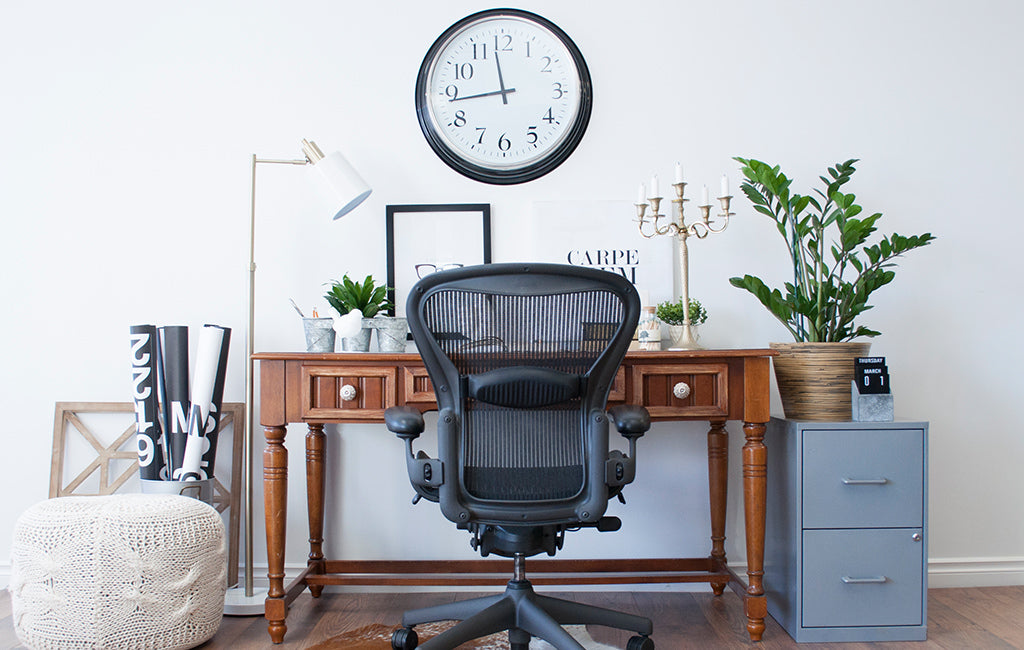 Working from home has become a new normal, and it can be hard to find a space that supports both productivity and creativity. Here are some tips for those of us who don't have an ideal office set up:
1. Set up a makeshift office 
If you don't have an office in your home or a designated workspace, you can easily improvise with different spaces to see what works best. One simple idea is to place a cushion on the floor in front of your coffee table to set up a workspace in your living room. You can easily convert the space back into a living room area after work. 
2. Keep your workspace organized 
It is important to have a calm atmosphere and clean work area in order to stay focused. Decluttering your work area at the end of every day can help you to stay organized with your limited space. Having a dedicated work basket or storage box is a great way to put away and hide all your work material while also having it ready for the next day. 
3. Move around
To keep your workday interesting, take advantage of your ability to work in various spots around your home. Invest in or use work equipment that you can easily move from space to space such as a laptop or wireless headphones. Working outside for a portion of the day is a great way to get some fresh air and a change of scenery. And, if your home is noisy you'll get a break from that, too!
If you have enough space for a dedicated office at home, here is some inspiration to help you elevate your space with art and accessories. By combining different things from around the house you can create a stylish and functional workspace. To help inspire you, we had fun with ours by hanging a black frame, white canvas, and a super large clock, after all you need to know when it's time to log off.
Here's how we hung each piece
We used our measuring tape to find the center of the desk; doing this helped us clearly see where the center of our display should be. To hang the frame, we used the Hang & Level™ to mark exactly where to hammer the nail into the wall. We hung it fairly close to the desk because you'll often be looking at the art from a sitting position. Keep that in mind when decorating. 
Most canvases do not have any hanging hardware in the back. We installed our CanvasHangers™, which makes the hanging process easy! We installed a hanger in each top corner and pushed the canvas into the wall. Since there are two contact points, the hangers keep the canvas straight and flush to the wall. 
Clocks can be a real pain to hang because most of them are fitted with a keyhole on the back. We used a DécoScrew™ to hang it because the head fits perfectly in the opening and it holds a lot of weight. You don't have to worry about time crashing down on you!
After hanging the art on the wall, we accessorized by adding some plants and interesting pieces to personalize the display. Get creative, and design a space that speaks to you!
We always love hearing from you, check out our social channels, or send us feedback and questions to comments@utrdecorating.com.
Remember to stay healthy, be kind and help where you can. Express your creativity and together, we'll learn to adapt and co-create a better world.
-The UTR Team 
#UTRdecorating