Hanging Two Frames Perfectly Level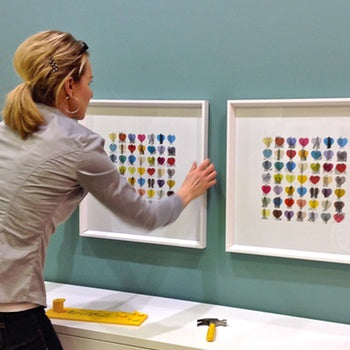 If the thought of hanging two frames so that they're perfectly level scares you, don't worry! We're here to show you the easy way to do it.
We chose this Valentines heart artwork because its very timely and we like to spread the love all year around. The hearts are cute, colourful, and cheerful, which is perfect for an entryway space.
Here's what tools you'll need:
Hang & Level
Déco Hammer
Déco Nails
Anchor Points
Let's get started:
The first thing to do is to determine the distance to leave between the two frames:
– Sit your frames on the table and play with the distance until you find the right spacing.
– Knowing what you're going to display on table underneath the frames helps too. Here, we knew we'd keep the look uncluttered, with very few accessories on display.
– We tried spreading the frames a bit more, but it looked better to center the frames with the center of the middle ottoman.
– There are no hard rules here, it's all about trial and error
Next, we need to figure out how high to hang the frames:
– Again, trial and error is definitely the best tactic here. Have someone to help you — it'll be less frustrating and go much faster.
– Here, Designer Mike, behind the camera, is helping me out.
This looked a little too high. The frames looked completely disconnected from our table and there was too much wall space showing.
Bit by bit, we lowered our frame until we found the right spot. Not too close to the table, but still nicely connected to it.
Next up, hang your frames:
– Mark the spot using your Hang & Level, hammer the nail in the mark, and hang your frame.
– Since the table is located in a high traffic area, keep the frame straight by sticking Anchor Points to its bottom corners.
– Proceed to hang the second frame.
Here, I'm lining up the second frame with the one already on the wall. As you can see, I'm visually lining up the frames using Hang & Level. Close one eye to focus on lining up both top edges — it really helps.
Hammer the nail in, hang, and keep the frame in place with Anchor Points.
Accessorize, and voilà, you're done!
If you have questions about this tutorial, please email, tweet, or FB us and we'll be happy to help you in any way we can.
Note:  The hallway table/desk we used is very functional and versatile too. The two large drawers are perfect to stash keys, pens, sticky notes, sunglasses, tissues, dog leashes or whatever else you need to keep handy but out of sight. When hosting a large gathering, it can be used as a bar area or a buffet table. It can also be used as a desk. As for the ottomans, they're terrific to sit on to take boots and shoes on or off or to use as extra seating when you're entertaining.
Other articles you might also like:
Wallpaper Design Junkies Delight – How to
How to keep picture frames hanging straight on a wall
How to hang picture frames over a desk
At Under The Roof Decorating, we make picture hanging easy. Our innovative products and helpful tips make it simple to hang almost anything wherever you want – and get it right the first time!