Frame kids' art with tape – An easy, cool idea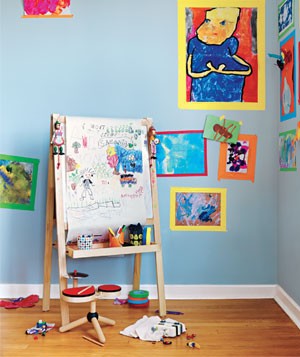 Why hide the tape behind kids' art when it can be used as part of the masterpiece? Use a different color of tape to enhance each piece or use the same color throughout. You can even use a few colors per piece. There are no rules, so have fun with it. Choose painter's tape or another low adhesive tape that will peel off easily without damaging walls. This "no hole in walls" idea is also excellent for "big" college kids who are not allowed to hammer anything on the walls of their dorm rooms.
We love Real Simple ideas that make sense!
Thanks for visiting!  Feel free to leave a comment.
Photo via Real Simple