Don't be afraid to decorate your walls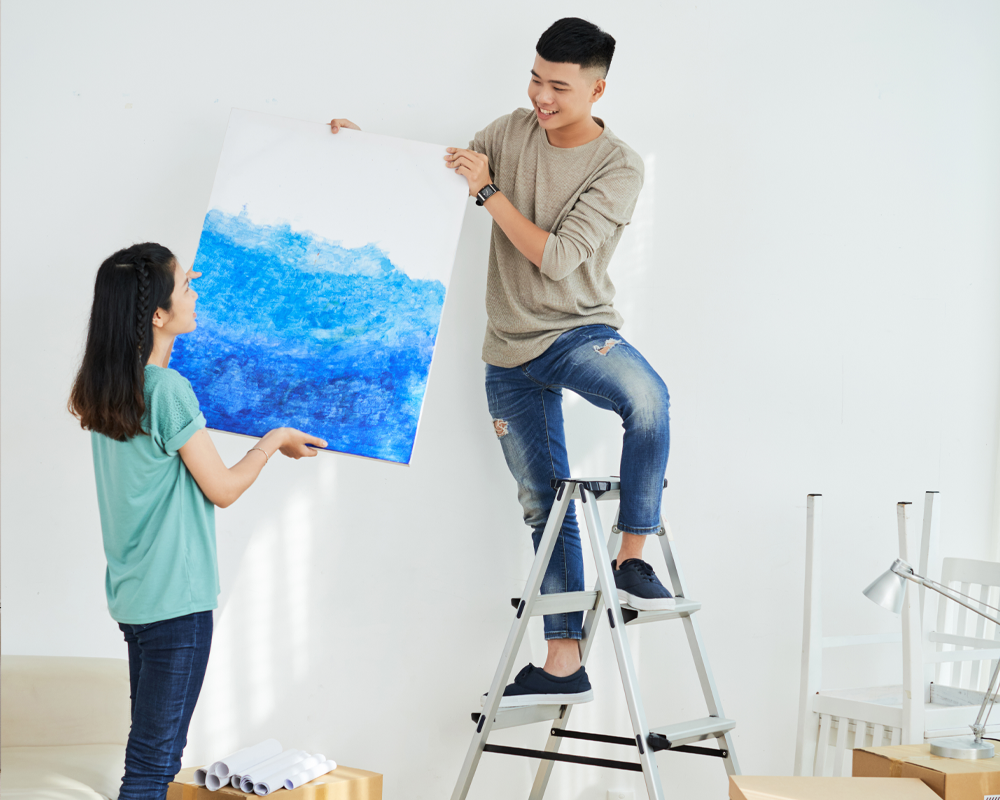 If you avoid picture hanging because you are afraid to put holes in the wall or hate all the measuring and calculating - know that you are not alone! Typical picture hanging methods and tools have not changed in hundreds of years, but there is a better way. We design picture hanging tools that make decorating easy. We'll introduce you to new tools and decorating tips that will take away your fears and build confidence. You've got this!
Mark exactly where to put the nail
Every decorator, from beginner to pro, needs this tool in their kit. We designed Hang & Level™ to take the frustration and guesswork out of hanging wall décor. It's so easy to use. Place your frame on the hook. Take the frame and tool to the wall. Test out a few spots where to hang your picture, and when you find the perfect spot, then remove the frame and press the button to mark exactly where to put the nail. Use Hang & Level to hang a single décor item or create an entire gallery in minutes. Watch this Hang & Level playlist on YouTube to learn more.  
Best way to hang canvas art - Place. Push. Done!
Decorating with canvas art is a great way to make a statement and fill both small and large spaces. We designed CanvasHangers™ to make it easy to securely hang any size canvas in drywall. Simply install a hanger on the top corners of your canvas art. Take the canvas to the wall and try a few spots until you find the spot where it looks best, level it and push the canvas into the wall. Place. Push. Done! It will hang flush to the wall for a professional look and will not move even in high traffic areas or when dusting. Watch this CanvasHangers YouTube playlist to see how easy they are to use.
Fill picture hanging holes the easy way
Many people don't make changes to their wall décor because they worry about picture hanging holes. It's really easy to fill a hole and all you need is a little drywall spackle, which you can find at hardware or paint stores, and your finger. Dap a little spackle on your finger and wipe it across the hole a couple times. Use a clean finger to take off any excess and your wall is ready to go. Click here to watch how we removed this gallery wall and filled the holes in a few minutes. 
Decorating your walls will bring you endless joy. Not only is it fun to hang items that make you feel good, it's great to share the stories of the décor with those who visit. Hang & Level and CanvasHangers simplify decorating and make it easy to hang all kinds of wall décor like a pro. 
We love designing products to make decorating easy. Click on the live chat below or email us at: questions@utrdecorating.com, and we'll do our best to help you Create the home you love™
-The UTR Team