Before & After: 5 Minute Wall Makeover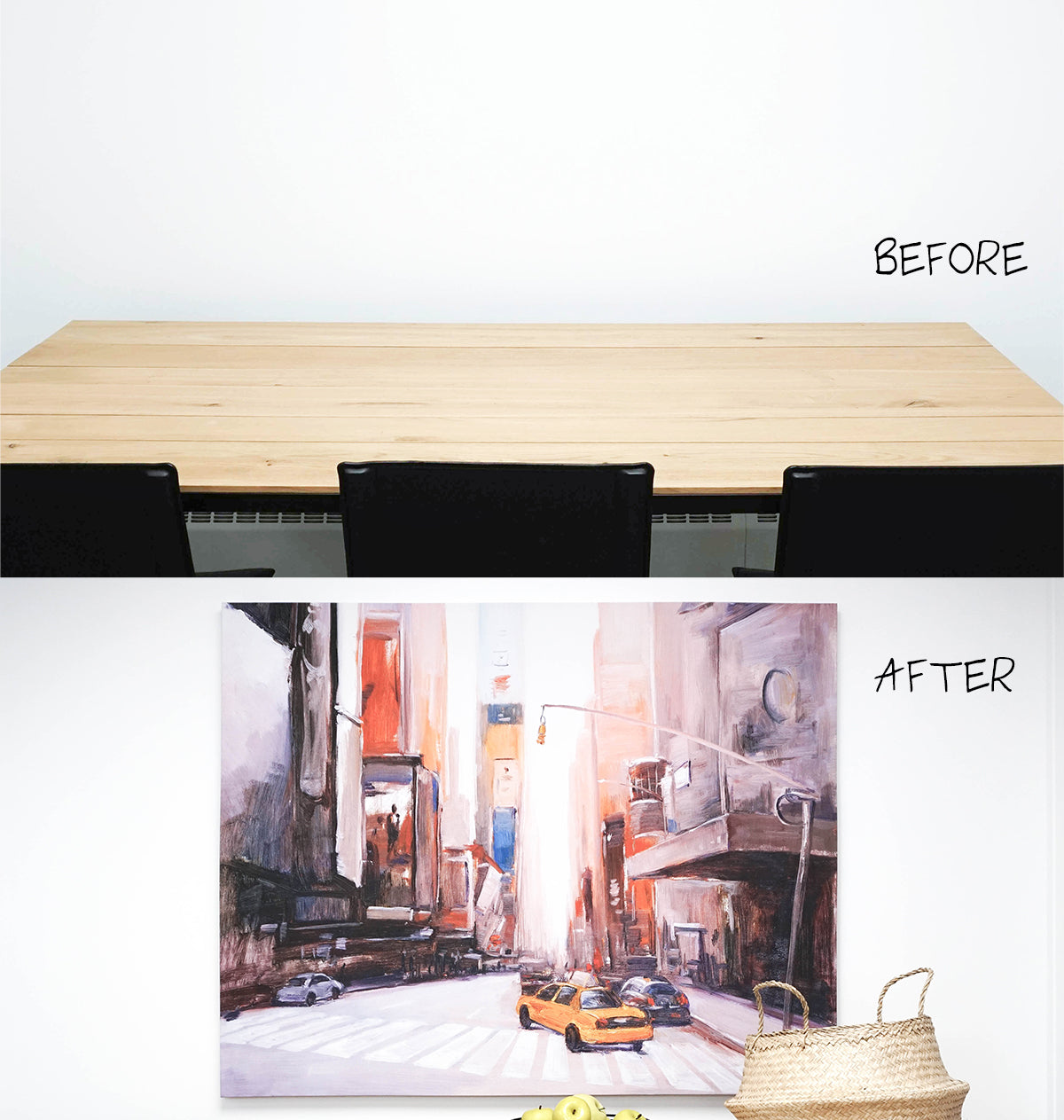 Dying to decorate that empty wall in your dining room, but aren't sure what exactly to do with it? You'll love this modern before and after transformation that only took five minutes. See how we used one big canvas to take this space from boring to WOW! 
Getting the canvas ready to hang
Although our canvas came with two large D-rings, we opted not to use them. Instead, we installed CanvasHangers™ because it makes hanging canvases twice as easy and you'll never have to straighten them. Take a look at this short video. 
We put CanvasHangers at the top corners of the canvas and just like that, it's ready to hang. Don't be fooled by their size - even though these brackets are small, they can hold up to 20 lbs! Hang your canvas with peace of mind, knowing that it'll never fall off the wall. 
Tip: Don't forget which side is up when you turn your canvas over! We've made this mistake before.
Hanging the canvas 
Sure, you could eyeball this part, but we like to measure twice and hang only once.
This is how we did it:
Find the center of the wall

Find the center of the table

Line up both centers with the canvas and mark the spot using 

SpacingStrips™

 
Up on the wall
This canvas is very large, but a lot lighter than it looks. We're also a big fan of canvas because you don't need to worry about glass, especially in a kitchen or dining area (safe for little feet, too).
Sometimes there's no avoiding it and you have to hop on the table. We needed to figure out how far away from the table to hang the canvas, so being on the table was a must! We didn't love the idea of getting our dining table dirty, so we improvised and used a piece of cardboard to protect the parts we stepped on.
Two minds are better than one. Having an extra pair of eyes to assess the distance from the table to the bottom of the canvas is crucial. Have a friend or partner help you out. After all, we can't be in two places at once.
Position the canvas on the wall, making sure it's centered and matches the center of the table (marked with a black arrow).
Have your assistant judge the height of the canvas.

Tip

: after testing out various heights, closer to the table looked best, as the two were connected to each other. This way, there isn't too much white wall space in between the table and bottom of the canvas.
Use a level to ensure the canvas is straight. Then push the top corners into the wall to anchor it (a handy level comes with the CanvasHangers).
If the canvas is too large to push the two corners in at the same time, push one in first, make sure the canvas is still level, and then push the other corner in.
We ended up hanging the canvas 7" from the table.
Table styling tip
Once the canvas was up, we shopped our cupboards for fun, kitchen-ish items to go along with the theme of the canvas. We chose apples in a basket (shh, they're plastic), white plates, and a pretty seagrass basket. Done! Feel free to copy the look. That's what our blog posts are for.
And the art itself? A modern cityscape and perfect conversation piece. Looks like New York City, doesn't it? Not to mention we figured some big apples would suit the Big Apple.
Two canvases, one room
We ended up hanging a second canvas that was identical in size to the first one to complete the look we were after. We hung it at the same height to get a cohesive look. Stay tuned for part two of the how-to in an upcoming post!
We love before and after transformations, and this one's no different even though it only took five minutes and one canvas. Get results right away and love your space all over again!
Tools used in this makeover
Shop our online store. 
Thoughts? Comments? Let us know down below. What's hanging on your walls?