Space picture frames evenly with SpacingStrips™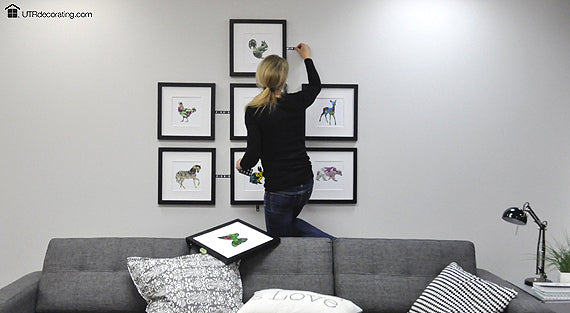 One of the biggest challenges when hanging a gallery wall is getting the spacing between frames even. Well, we took care of this by designing SpacingStrips™, available in our Place&Push® Frames  set. We may be a little biased, but we honestly think it's the best thing since sliced bread. These unassuming SpacingStrips make it super easy to hang anything straight without having to use a ruler or measuring tape.
The SpacingStrips are low-adhesive stickers with white arrows on a black background. They come in a sheet of 12, enough to use a few when hanging a large display, such as the one I'm creating above. The low-adhesive backing of each arrow gently sticks to the wall without damaging it. When you're done hanging your display, peel them off the wall and simply stick them back onto the plastic sheet – you can reuse them for your next picture hanging project.
Note: We used the Place&Push Frames to create the gallery above, we simply switched out the trees for floral animal silhouettes, which you can download for free from our website.
Here's how it works:
Each SpacingStrip measures 2″. If a larger spacing is needed between frames, simply add them back to back to get the desired length.
Use the arrows vertically, horizontally or even diagonally to create the displays you want.
Ta da! Here's our gallery wall with each frame perfectly spaced – exactly the way we like it.
We love hearing from you – do you have any picture hanging tips you'd like to share?