With the Déco Hammer, Size Does Matter!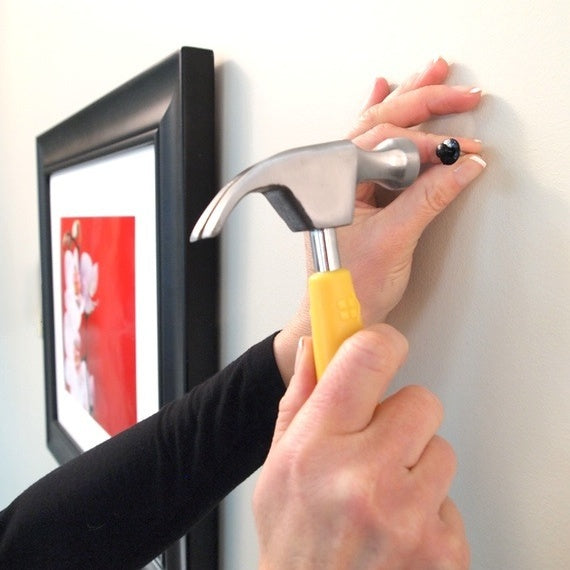 ***Written by Liette. Hanging pictures is a huge part of my work. When I started Under the Roof Decorating, I used to use my husband's carpenter hammer to pound nails in walls when hanging pictures for my clients. While that hammer got the nails in the wall, every time I used it I wished for something smaller and easier to use.
So we decided to design our own hammer, one designed specifically to hang pictures. Meet our DécoHammer™— it's the perfect size and weight for picture hanging and sits perfectly well in the palm of my hand. Because it has a shorter handle than a regular carpenter's hammer it provides a lot more precision, which is the most important factor when it comes to hanging pictures since you don't require a lot of force. Plus, with the DécoHammer the chances of hitting your fingers, driving the nail flush into the wall, or completely missing the nail are pretty much eliminated.
The DécoHammer is petite and pretty, but don't think of it as a "ladies' hammer." In fact, at our house we have a DécoHammer in our kitchen drawer (you know, that messy one that we all have). Because it's small, compact and so easy to store, we keep it in there for quick and easy access. You'll be amazed at how often everyone in our family (kids, husband and me) uses it around the house to tackle kids' craft projects, hang draperies, fix furniture, hang holiday decorations, assemble IKEA bookshelves, and of course to hang pictures.
***You can purchase a DécoHammer directly from our online store.
Liette Tousignant
Co-Founder of Under The Roof Decorating