Why is Doree™ not your ordinary doorstop?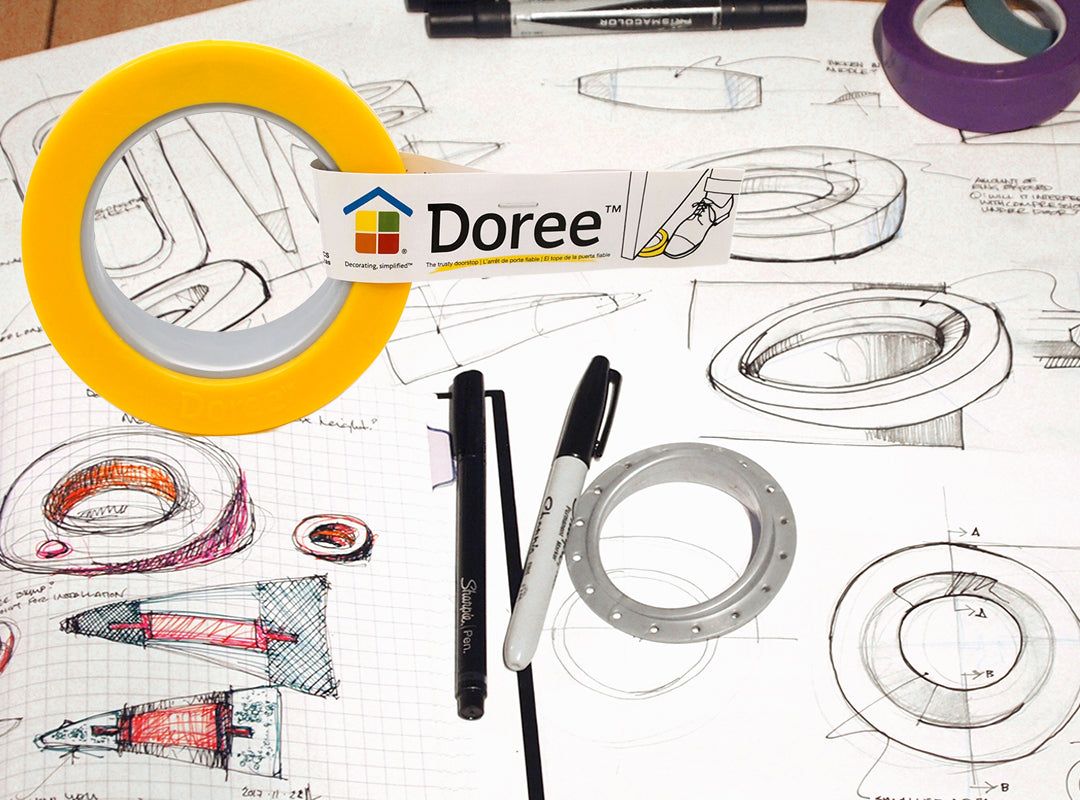 Doree™ is designed to be not your ordinary doorstop. Learn more about the features of this innovative product, and how it's different from the other doorstops out there. 
Building a better mousetrap (well - doorstop)
Why did we want to make a better doorstop? Doorstops are one of those things you rarely think about until you need one and there isn't one there. Or when you have one but you have to spend time and effort getting it into place and fussing around with it. They can be a pain to install, are never where you need them and look ugly. So we decided to fix that, and designed Doree™. 
Hands free installation
One of the key differences between our doorstop and a lot of others is that ours can truly be installed hands free. Simply hold the door where you want it to stay, drop the Doree on the floor, and use your foot to roll it along the edge of the door. Once it gets to the right spot it will install itself under the door and you are done.
No ups or downs
There is no specific orientation for Doree, simply toss it on the floor and no matter which way it lands, it will work. Note that not all door stops work this way. Even a simple wedge style doorstop will have a side that is meant to sit on the floor and the other under the door. Once in place, Doree has more surface contact than a traditional wedge-shaped doorstop to hold the door in place more securely.
Stack 'em up
Doree is designed for indoor use and will fit most door gaps in the home. For outside doors, or other situations where you may have a larger gap, you can even stack two Doree doorstops on top of each other to fill the gap up to 2 inches. 
Always there where you need it
You don't always need to keep a door open, but when you do, you want your doorstop right there. Doree's design makes it easy to keep it where you need it - on the door. Designed to store on the door handle, it works on both knob style or lever style handles. As another part of our "no bend installation" philosophy, this means you don't have to pick it up off the floor to install it.
Don't get (un)stuck
Doree is made of a material called TPP. We love this because it's not only bright and flexible, but it's non-allergenic as well. The surface of the Doree has a slightly tacky quality to it, which helps it grip the floor and the door. Over time, dust and dirt may cover the surface and make it lose its grip a bit, but that's no problem! Simply give Doree a wash with some hot soapy water and it will be good and grippy as new.
Not your ordinary doorstop
With its 'no bend' installation and modern design, which makes it easy to use and to store, Doree is not your ordinary doorstop. Available in a variety of colors Doree will fit seamlessly into your decor and design style. 
Patents protect customers
Protecting our products with patents is an important way that we can protect our customers. When you purchase a UTR Decorating product you can be confident it will work exactly as intended and you get the true value and full benefits of our design features. It also helps customers be sure they are purchasing an authentic product in the marketplace and not an inferior counterfeit. Find out more here.
Decorating, simplified™
We love making it easier for everyone to decorate their homes. Since designing our first product, Hang & Level™, we've created a full line of products that help save time, walls and even relationships. When the decorating process is simplified, it becomes easy to Create the home you love™.
Our products are designed to make decorating easy. Click on the live chat below or email us at: questions@utrdecorating.com and let us know how we can help. Happy decorating!