Which Picture Frame Should You Hang First?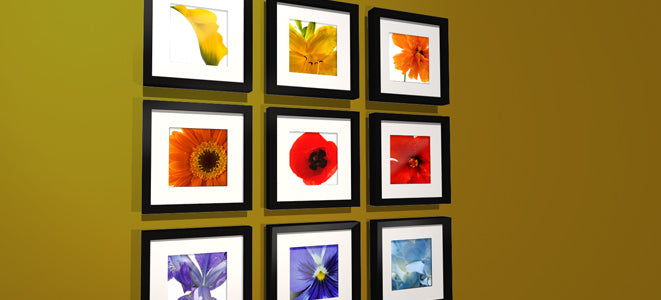 It's easy to recreate beautiful wall arrangements like this one that you see in your favorite decorating magazines or design shows.   You just need to know where to start.
Here's how:
Start by hanging the middle frame of the bottom row; then go left or right.
Next, hang the center row, aligning the frames with the bottom row.
Finish the look with the top row, lining up the frames with the row below.
Tip: Mark the back of your frames with "center, left, right, top row, bottom row.  If you ever get tired of the pictures in your frames, you can swap the pictures and rehang them quite easily.
Of course owning the right tools to hang your frames will help. Use Hang & Level to hang each picture. It will mark the exact location for your hardware, eliminating the chance of making extra holes in your walls.
As for spacing between frames, keep it consistent to achieve a well balanced look.  Cut a desired length of SpacerTape, usually 2 to 3 spacers are perfect when hanging multiples. And simply peel the tape off when you're done.
Once you've done all this work, you'll want to make sure your arrangement stays straight.  By placing small Anchor Points on the bottom corners of your frames, they will stay straight forever.
At Under The Roof Decorating, we make picture hanging easy. Our innovative products such as Hang & Level and Déco Nails as well as helpful 'how-to info and useful déco tips make it simple to hang pictures exactly where you want them – the first time!