Which Look Do You Prefer?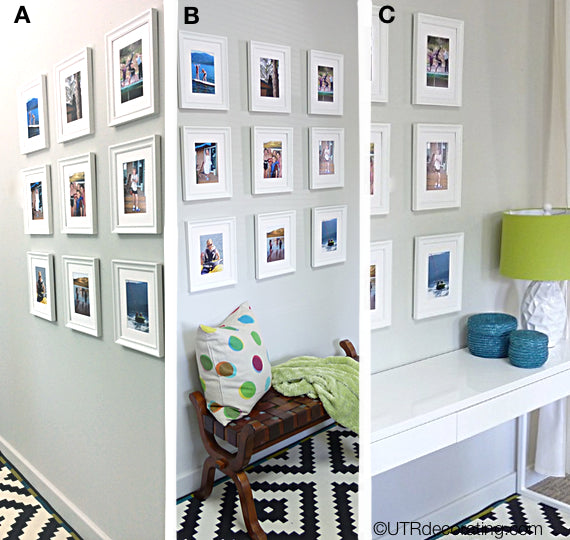 A few weeks ago, I made my very own gallery wall  using pictures of my kids from one of our holidays. Within hours I completely transformed a boring wall into a very lively space. Since then, I've been having fun creating different looks for my hallway simply by using furniture and accessories I already had.
Which look do you prefer?
Look A: The serene hallway
The gallery wall is the focal point of the hallway, or the conversation piece, so to speak. This is a perfect look for narrow hallways where there's no room to add furniture, but still a need to dress up the walls. Or, if you like your space to feel spacious without any other items to clutter the space, this is the look for you.
Look B: The hallway bench
This works really well if the hallway is located close to an entryway. It gives you and your family the perfect spot to put on your shoes and you could use baskets under the bench to easily store everyday items. Also, this makes for a great spot to throw your purse, backpack, or coat on as you enter the house.
Look C: The hallway table
The slim IKEA desk fits beautifully into this space. It uses minimal floor space and the two large drawers are perfect to stash keys, pens, sticky notes, sunglasses, tissues, dog leashes or whatever else you need to keep handy but out of sight. A lamp keeps the space nice and bright and baskets or stools under the table would add much needed storage.
Tip:  You can easily expand the gallery wall with additional pictures of your holidays from year to year. Or if you grow tired of the pictures, just switch them out while keeping the frames in the same place.  Less work!
Note: Hallways are busy traffic areas, so make sure to use the proper nails or screws to support the weight of your pieces to prevent them from crashing on the floor.
Do you have a picture hanging tip you'd like to share?
Make sure to sign up to receive our blog posts so you can have them delivered straight to your inbox.
Liette Tousignant
I'm passionate about picture hanging and wall decorating (and I'm also the Co-Founder of Under The Roof Decorating)