Which chair would you choose?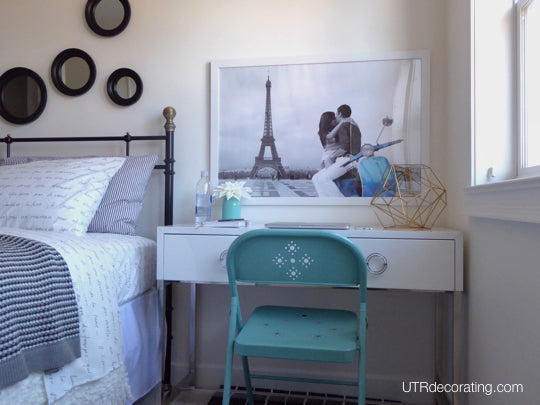 At times, something as simple as choosing a chair can be a real challenge. On a recent makeover of my daughter's bedroom there were three chairs that I liked. I couldn't decide which one to choose, so I asked for your opinion on Facebook. The options were blue, white or wood. I knew there was no wrong answer, since it's all a matter of personal style, but I wanted to get your opinions.

The chairs we tested didn't have casters or armrests, since they wouldn't have fit under the desk. This little bedroom desk is only used as a drop down surface to write or as a place to charge electronics, so no long periods of sitting are involved. That means comfort wasn't the first priority – I was going for visual appeal.
Which chair would you pick?
Blue
Since the bedroom is mainly decorated with neutrals (black, white and grey), the turquoise chair adds a fresh pop of color to the space and ties in nicely with the Paris poster. Turquoise is still a big trend this year, and it's the perfect choice for a bedroom since it's a soothing color. I like the details on the chair back and seat; they're feminine and let the desk colour peek through to create an airy feel.
White
This is my 86-year-old Mom's top choice. If you love white like she does, you'll like this crisp classic look. It's a safe choice because it's versatile, will always be on trend and blends in with most décor and other furniture in the house. The chair is petite in size giving the desk area a light and delicate look.
Wood
The wood chair adds warmth and texture to the predominantly all-white space and is by far the most comfortable chair of the three. I find its back very playful; it mimics the display of circular mirrors above the bed and the round shape of the desk hardware. I've had this IKEA birch-veneered chair for ages and it's still a popular seller at store level.
The results: The blue chair was a clear favorite when we did our poll. The vote counts were: Blue (45), white (15), wood (9). Some of you also shared these comments:
"A dark grey or silver would look pretty well too" – we absolutely agree.
"Blue… Nice Pop of colour" – yes, the blue wakes up the whole space.
"The natural wood, it gives a warm element to the room without taking away from the decor." – we couldn't agree more.
"Blanc, c'est classique et propre" – thanks Mom for that comment (classic and fresh-looking).
In the end which one did I pick? I chose the blue one. I love its retro style and how it gives the room a fresh, tropical feel that is so welcomed in the spring. I'm also pleasantly surprised by how well the color works with all the grey, black, white, gold and silver tones around it. It's a nice overall fresh accent color.
If you didn't get a chance to vote last time, which chair would you choose?