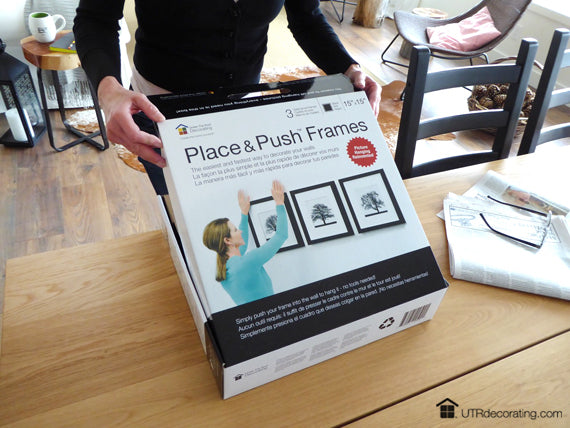 Each frame already includes original artwork ready for display. Isn't the artwork gorgeous? It's an original set by my friend Christiane, a talented photographer.  The set of black frames has these trees, while the set of white frames has flowers.
Want to insert your own pictures? It's simple. We've designed an easy-to-hold toggle at the bottom of each frame to make switching art easy. Simply twist it open, remove the corner brackets and the backing lifts right out of the frame so you can replace it with any photo or artwork you choose.
Here's what the back of the frame looks like. As you can see, all you need to do is to snap the pins into the corner brackets and you're ready to hang.
To recap: the box includes
Three 15″ x 15″ solid wood frames with pre-installed picture hangers
White premium mats with 7.5″ x 7.5″ openings
Original artwork
Easy to follow instructions
12 Spacer Strips
1 mini bubble level
6 black pins (2 per frame)
These frames would make a perfect house warming gift, or for anyone who wants to decorate their walls the easy way. Purchase Place&Push

Frames today!
What do you think of this new way of hanging pictures? I'd love to hear from you! Feel free to leave a note in the comment box below.
Liette Tousignant
Co-Founder of Under The Roof Decorating