What's hanging on your bathroom walls?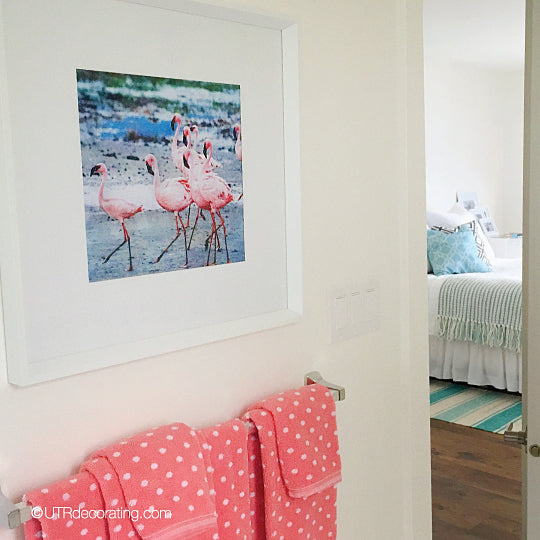 I have flamingos on mine! I was looking for something fun and fresh with a tropical theme to hang on the bathroom walls of the master bathroom at the cottage. Flamingos turned out to be the perfect decorating choice.
The fact that flamingos are water birds with tall long skinny legs (I'm envious) and that they happen to be so trendy right now were other reasons for choosing them. By the way, I didn't buy the art; I made it. After noticing images of flamingos on Pinterest, Instagram and on various blogs, it inspired me to make my very own art to embrace the flamingo décor trend.
Here's how I hung the big birds and the tools I've used:
Hang and Level – makes it a snap to hang things up
Déco Hammer – perfect for small jobs
Picture hanging Nails – designed to hang pictures
Anchor Points  –  keep your frames hanging straight forever
Step stool – always good to have one handy
Start by finding the right picture hanging height for your frames. Don't hang them too close to the towel bars to avoid hitting the bottom of the frames every time you reach for a towel. Center your frame with the towel rack.
P.S. When we took these pictures it was a super hot day at the Lake so I decided to go au-natural, no make up and to wear casual summer clothes. 
1. Use Hang & Level to find the right spot on the wall for the nail.
2. Hammer the nail in using the Déco Hammer.
3. Hang the picture hardware on the groove of the nail.
4. Level your frame using the tool. 
Using Hang & Level, centre the second frame with the towel bar and line it up with the frame already on the wall. Repeat the same steps as above to hang it and you're done! 
Use colored bath towels, various patterns and/or textures to give your bathroom different looks.  I love to display blush/pink/coral polka dot towels to create a bright and playful look that goes well with my flamingo art.
Other times, I switch to crisp white towels to create a more relaxed spa-look.  It's amazing how something as simple as swapping towels can instantly refresh your bathroom décor without spending much money. In the end, it's your own private oasis to relax and unwind so have fun with it. 
I couldn't resist buying these flamingo pillow cases to extend the playful theme into the bedroom. They add just the right amount of color to offset an almost all-white bedroom décor. 
For more great bathroom décor inspiration, visit our Pinterest photo idea board.
For tips, dos and don'ts about hanging pictures in bathrooms, check out the following articles which will help you get the results you want.
Now, your turn – what's hanging on your bathroom walls?
*Photo credit for the Flamingos: Mona Csada
Liette Tousignant
Co-Founder of Under The Roof Decorating