We love hearing from you! Meet young Sydney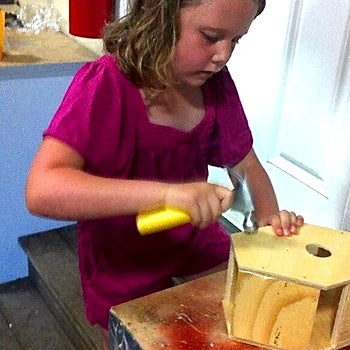 We designed our light-weight Déco Hammer as a picture hanging tool. It's perfect for hammering nails into walls. But when we received this picture of young Sydney using the hammer to build a birdhouse, we thought what a fun and unexpected way to use our product.  This picture was such a treat to receive that we'd like to invite you to send us your pictures of innovative ways to use our products, so that we can share them with our team and with our readers. Don't be shy. We'd love to hear from you! You can send your images to photos@utrdecorating.com.
Here's Sydney creating her birdhouse using our  Déco Hammer.
Check out the side of the playhouse where Sydney and her sister's finished birdhouses are now perched.
Thanks to Sydney's mom, Tracy, for sharing these great snapshots with us!
Thanks for visiting! Please feel free to leave a comment.