We had so much fun filming this video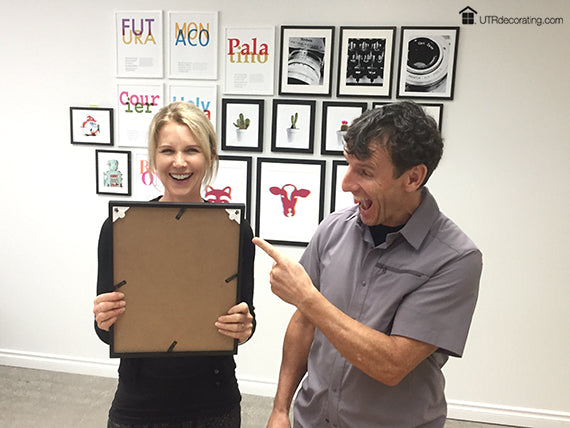 It takes a village to raise a child, and it takes a team to bring a new product to market. It's taken us over a year and a half of work before being able to introduce our new picture frames to the world. It's been a long stressful journey, but a fun one too. I thought I'd share with you some fun behind-the-scenes moments taken when we recently filmed a promotional video for our Place&Push™ frames. Take a look!
Meet Kelly, my life and business partner. We started our company – Under The Roof Decorating – thirteen years ago, and we still enjoy every minute we work together. The funny thing is that often couples fight (argue) when hanging pictures together but for us, hanging pictures is one the key elements that has kept us together. It's our business!
Here we are filming a video to promote our new picture frames that we've launched on Kickstarter, an online crowdfunding platform. If you're not familiar with Kickstarter, I've written this article that explains how it works.
Everyone from our team is featured in the video, and Kelly and I also have a short speaking part. We thought that filming our segment would take only a few minutes but it turned out to take hours. First, we kept laughing because Mike, our Design Director, had a picture of Oprah taped to a green apron he was wearing – that's where we needed to look when speaking. He'd say "don't look at me, talk to Oprah." While Katelin, our Senior Visual Designer, would say "don't look at the camera, look at Oprah." How can you not laugh?!
To make a long story short, filming our segment took more than one take. The next time we filmed, Ian, our Industrial Designer, was our official Boom Operator – holding a microphone attached to the end of a Swifferbroomstick. Although it looked goofy and we couldn't stop laughing, it worked surprisingly well.
This whole project, reinventing picture hanging, started because we knew there had to be a better way to hang pictures than the traditional hammer-and-nails way; a simpler, faster and more secure way.
In the video, you'll see our entire team, and learn about the process we went through to develop this new hanging technology. We're very excited to finally show off the results.
A big thank you to the whole team for all of their work. Together we're changing the way pictures have been hung for over 100 years – something that makes us proud!
Time to celebrate. Cheers!