Turn Your Christmas Cards Into an Art Gallery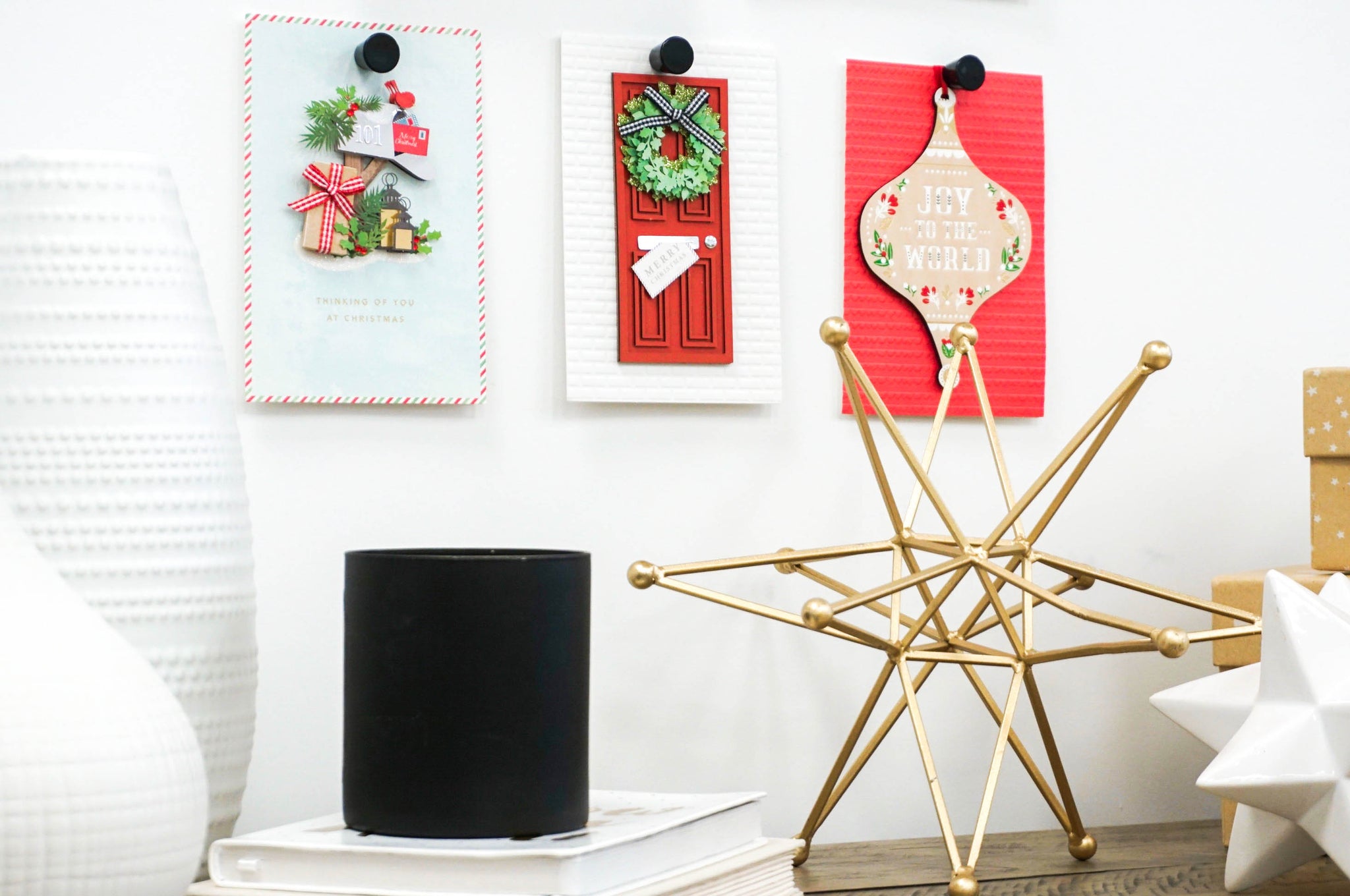 Put a spin on decking your walls this holiday season with your favorite Christmas cards. If you're anything like us, you've collected tons of gorgeous cards over the years but don't know what to do with them. 
Here's a holiday tip: why not hang them? Forget about the traditional gallery with frames, create a new and unique space with heartwarming cards from friends and family without adding a single hole in the wall. That's right. Your tools can sit this one out and you can enjoy a damage-free decorating zone!
A Christmas tree for your walls
Christmas cards are a work of art. Whether they're handmade or store-bought, there's something so magical about them. We love the thought that goes behind them and they'll never go out of style in our house during the holiday season. They're a great complement to our actual tree.
We hung our cards using DécoMagnets, a strong magnet and disc system that we designed to easily stick on the wall without causing any damage to the wall or the card. You can get creative and hang all kinds of gallery walls with photos, prints and artwork. DécoMagnets are quick and easy to use:
Place a metal disc on the back of your card and a magnet on the front.

Peel the clear backing off the disc.

Position your art on the wall and push to stick.
There's not much else to it! Easily hang your art in seconds and feel free to switch things up just as quickly.
How to remove DécoMagnets
You guessed it. The removal process is easy, too. DécoMagnets come with this handy removal tool that wedges in between the wall and the metal disc to safely remove it. You can use your fingernails to remove the disc, but in the name of no damage, we recommend going with the pick to get the job done.
Best of all, no sticky residue is left behind and your walls are the same as they once were. Don't believe us? Watch this short video on how it's done.
Styling
Inspired by our own Christmas tree, we styled this gallery in a pyramid shape. We added warm neutrals to balance the pop of holiday reds and greens. The cream and white vases, paired with black décor and beige colored gift boxes are perfect for pulling this look together without detracting from the focus, which is the holiday gallery wall. 
Bonus: DécoMagnets come in black or white, neutrals that blend well with any décor, so you don't need to fuss over color coordinating.
We love having our tried and true annual Christmas decorations, but it's great to change things up once in a while. Not to mention, when you sift through old Christmas cards to choose which ones to display, it's a blast from the past and a lovely reminder of the lucky ones you have in your life. DécoMagnets are good for more than just your walls though. Hang posters and prints on your backsplash, cupboards and any smooth surface, without damaging your home. Shop online for DécoMagnets today.
We love designing products to make decorating easy and help people create spaces that bring them joy. Click on the live chat below or email us at: questions@utrdecorating.com, and we'll do our best to help you Create the home you love™
-The UTR Team