Toss it? No way! Give your old furniture a makeover.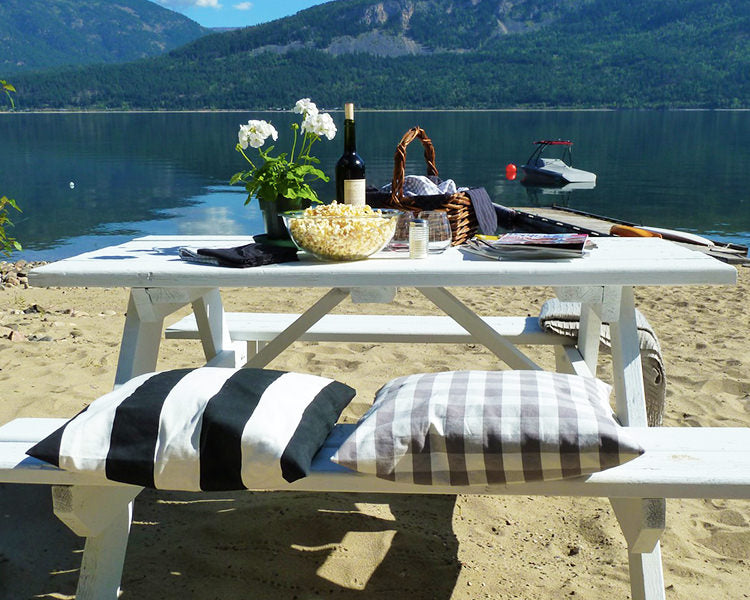 It's a great time to start some outdoor projects that you may have been putting off. Instead of throwing out old furniture, why not consider repurposing or repairing it! Upcycling is a fun way to reduce your environmental impact while also unleashing your creativity. We chose to spruce up an old picnic table and make it look so good that it shouts out for our attention. And we are now using it more than ever.
Here's the picnic table before getting a new lease on life. As you can see, it was pretty drab and definitely in need of some TLC.
Prepping and painting the table:
First we hosed the table with water and let it completely dry. We then sanded the top surface and seats. Next we primed, let it dry, and then spray painted all the surfaces. We used one coat of paint for a more rustic look, but you can easily add more if you want a smooth and clean finish. If you're planning to freshen up your picnic table, get tips from a sales associate at a paint or DIY store on the best paint and brushes to use. A little extra advice will save you time and help you get the results you want.
We love our repurposed picnic table! The white paint completely transformed the table from dated to chic.
A picnic is a great way to spend time outdoors with friends and family. You can easily social distance by adding more chairs around the picnic table and having everyone bring their own food. Don't feel pressured to prepare your own meal, you can also order food and support local restaurants.

Check us out on social media and tell us what outdoor projects you have planned this summer!
Remember to stay healthy, be kind and help where you can. Express your creativity and together, we'll learn to adapt and co-create a better world.


-The UTR Team 
#UTRdecorating