13 top picture hanging mistakes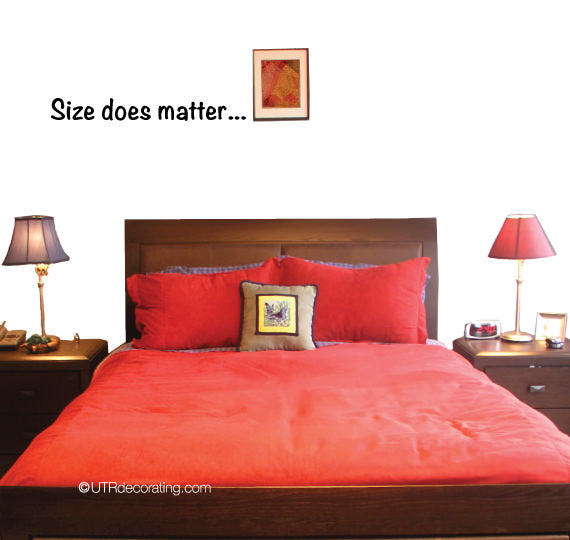 Picture hanging is certainly not an exact science. What I know about picture hanging I have learned the hard way, since it has always been all about trial and error. All of that is what led my business partner and I to invent Hang & Level: so we could help to take the frustration and guesswork out of hanging picture frames. With that said, learn from my picture hanging mistakes to avoid making them on your very own walls. Here are 13 mistakes that you'll want to avoid:
Don't hang anything too small above a piece of furniture, as the art will be overwhelmed by its weight and scale. On the other hand, don't hang artwork that is way too big above your furniture either, as it will look completely disproportionate.
Don't scatter your art collections around the house in the hope that it will look like you have more than you actually do. Keep your collection together, otherwise it's not a collection at all!
Don't feel like you have to hang every piece of art that you own. Store extra pieces away and take them out periodically when you're ready to update your wall décor. Consider it an art rotation.
Don't hang art on every wall in the room. You should keep at least one wall free of art to allow your eyes to rest, and to give the art that is hanging the attention it deserves.
Consider the reflection before you hang mirrors. You don't want an unattractive reflection ruining your décor.
Don't try to match your art to your furniture or your walls. Buy pieces that complement your décor, but most importantly, buy what you really like. Furniture is often replaced over time, but artwork is timeless.
When you are moving to a new home, challenge yourself and hang your artwork in different locations. If you've always had a certain piece over the couch, try the dining room for a change. It will feel as if you have all new pieces when they're hung in new locations.
Don't think you have to hang your artwork on the wall studs, especially since they are never where you want or need them to be!
You've probably heard this one a million times before, but you don't hang your artwork too high: you want to be able to enjoy it without having to look way up.
Don't hang expensive or sentimental pieces of artwork in a bathroom because the moisture from steamy showers will destroy them (especially if the bathroom is used by teenagers!).
Recycling is a great idea, but not when it comes to reusing the nail holes left behind from by a previous homeowner. You don't want to repeat someone else's mistakes, so make your own holes!
Don't display art on walls that get a lot of sunshine because the colors will fade over time. However, you can invest in UV protective glass to protect your pieces.
Don't use a single nail to hold a heavy picture frame. Choose hardware that's strong enough to support the weight of your pieces.
That's it… for now! We'd love to hear from you, so please share your picture hanging mistakes with us (I'm sure we've missed a few) so we can all learn from these hair-pulling experiences.
To avoid making any of the above mistakes, keep coming back to the blog for some of our best picture hanging tips to help you hang your wall décor exactly where you want to on the first try.
Liette Tousignant
I'm passionate about picture hanging and decorating (and I'm also the Co-Founder of Under The Roof Decorating)