Tips to Space Picture Frames Evenly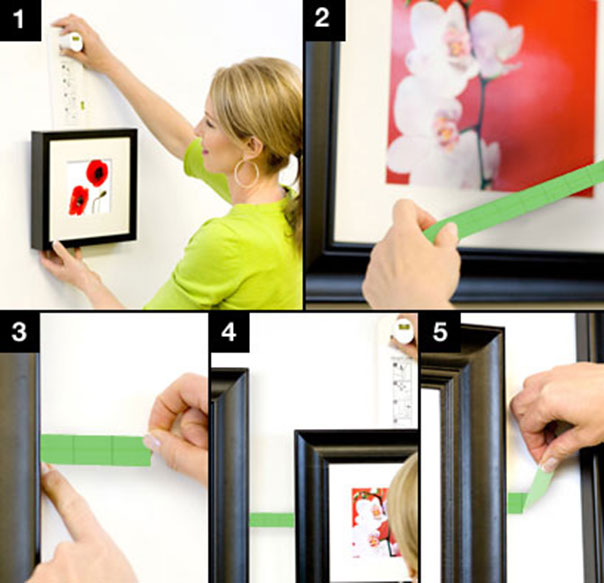 Forget complicated measurements or marks on the walls. Low tack adhesive tape such as Painter's Tape or SpacerTape gently sticks to walls without damaging them and is easy to remove when you're done. Once you've tried this easy trick, you'll never go back to your old ways.
Hang your first frame.
Cut the tape the desired length to match the space needed between each frame. (See info below)
Stick the tape on the wall next to the frame that is already hung.
Hang the next frame using the tape as a guide. Repeat steps for additional frames.
Peel off the tape and you're done.
How do I know how much distance to leave between frames?
Although there is no universal answer, leaving a space of 2" to 5" between frames is a good rule of thumb. If using SpacerTape, use 2 to 3 segments as each is equal to 2".
Having an extra pair of hands to hold the frames while you step back to assess the distance, definitely helps.
Some Tips & Tricks
Be careful not to hang your frames too far apart. It will look like you are trying to fill the wall instead of creating a cohesive arrangement.
If you are hanging multiple frames in a grouping
For a symmetrical look, cut pieces of tape of all the same size to ensure the spacing between frames is identical.

For an informal look, 2 to 3 different lengths of tape can be used. The tape is useful as a guide to avoid big gaps in your display and keep your pieces connected to each other.