Tick Tock – Decorating with clocks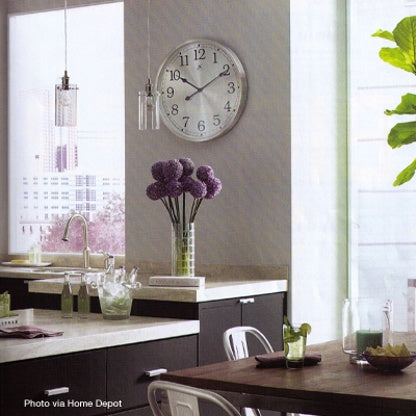 Wall clocks will never go out of style, no matter how many digital clocks are built into our appliances. Here are a few inspirational looks….
One large clock
Use a large clock as a focal point in any part of your home, from the living room, kitchen, office, bedroom, even the laundry room. Perfectly centered on a tall narrow wall, this no fuss oversized clock adds style and curves to the linear space. The large numbers are easy to see from across the room without needing to squint.
A timely collection
If you have several clocks, even if they differ in style and color, consider hanging them together. Although they're all different, they share a common theme – time. You could set the largest clock with your local time, and all the others with different times. Or, they could all show the same time. With that many clocks around, you'll never have an excuse to be late again.
Time zones
Perfect for home or the office, hang 3 or more clocks, each displaying a different time zone where family, friends or coworkers live. Create a label for each clock that identifies the name or city each clock is dedicated to. Your time zone wall will make it much easier to figure out the best time to call without worrying about waking anyone up.
---
Tips & Tricks
Hanging your clock(s)
Most clocks are fitted with a single keyhole or with a D-ring hook which can be quite a pain to hang. Make the job easier by using the single hook on Hang & Level. It fits perfectly in tricky openings and will allow you to easily hang one or several clocks.
Spacing clocks
Use Painter's Tape to space your clocks evenly. Simply peel off the tape when you're done.
Where to shop?
We've done some shopping for you, these links will take you directly to clocks from Pottery Barn, Bed Bath & Beyond, Crate and Barrel, Restoration Hardware, Canadian Tire, Target, Walmart, IKEA, Home Depot.
Liette Tousignant