Throwback Thursday: The UTR Story in Enterprise Magazine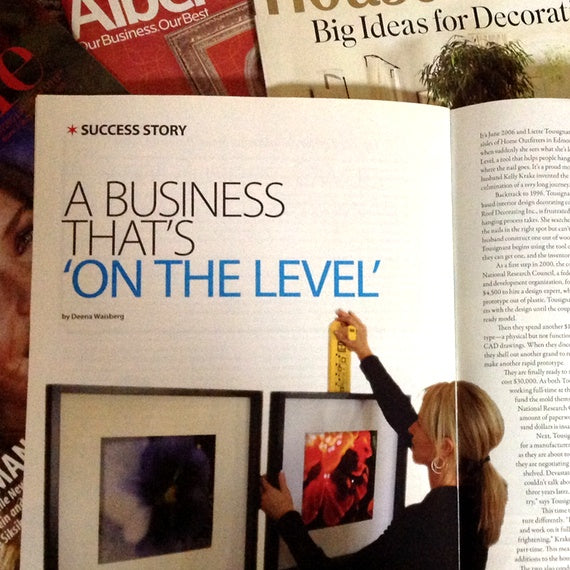 This week's Throwback Thursday takes us all the way back to November of 2006. Wow, that's a full seven years ago — we were so young and innocent back then!
Hang & Level and the owners of Under The Roof Decorating, Kelly and Liette, were featured in Enterprise Magazine, which focuses on providing information geared toward small to mid-sized enterprises and businesses in Canada.
The article describes the long journey that started with us coming up with a great idea for a tool to help people hang their frames more easily to the commercial availability of our innovative Hang & Level. Our path involved finding investors, manufacturing the first 20 foot container of picture hanging tools (13,000 tools), and beginning to sell the product at retail. Things certainly didn't happen overnight — it took six years from creating the first prototype to selling Hang & Level to Home Outfitters, our very first national retailer in Canada. It also took money. As the article details: "by September 2005, [we] secured investment from a dozen friends and business acquaintances totaling almost $750,000."
The article is a very good read, especially if you think you have a product idea that you'd like to take to market.  You can also submit a product idea to the team at UTR at http://www.utrdecorating.com/product_ideas.php.  We understand how it feels to have an idea and not know where to take it or what to do next!
Enjoy!