Throwback Thursday: Hang & Level Featured in Chez Soi Magazine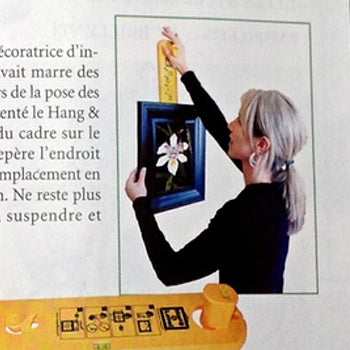 Today's Throwback Thursday takes us to the beautiful Province of Quebec, which is especially near and dear to our hearts because that's were Liette, the co-owner of Under the Roof Decorating, is from. We were featured in the November 2006 issue of Chez Soi Magazine — we can't believe how much time has passed since this article came out!
Chez Soi magazine is all about the latest trends in interior design in Quebec. This article appeared during the early beginnings of UTR, so it was much appreciated. The featured article was called "Nos Belles Découvertes," which translates to "Our Beautiful Discoveries."
The blurb is short, sweet, and to the point. If you don't feel like practicing your French and trying to read it yourself, in a nutshell the article says that Hang & Level is "a tool that helps you hang your pictures without driving yourself crazy. Easy to use: place the wire on the tool, find the right spot for your frame, press the button, hammer the nail in, hang your piece."
And voilà — that's all it takes! Merci Chez Soi — we were thrilled to be featured in your gorgeous magazine.
 At Under The Roof Decorating, we make picture hanging easy. Our innovative products and helpful tips make it simple to hang almost anything wherever you want – and get it right the first time!