Three ways to hang the same art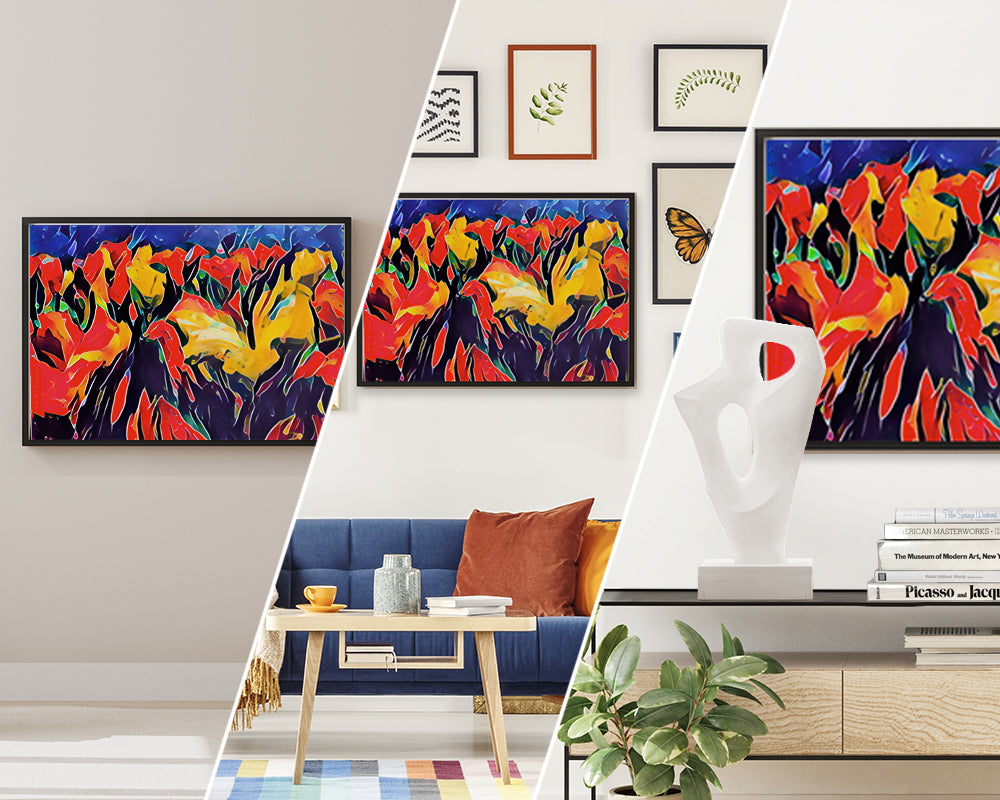 Decorating your walls is a fun way to unleash your creativity and create spaces that make you feel good. We want to help you to see there can be different ways to hang the wall décor you love. In this blog we'll show you three ways you can display the same piece of artwork.
Hang it on its own
When you hang a piece of art as a stand alone item, then it becomes the primary focus of the area where it is hung. With a large enough piece, you can even create a focal point in a room, so that the art draws the eye to it when you are entering the space.
Often pictures are hung above furniture and there is a general decorating rule of thumb where the size of the picture is a minimum of ⅔ of the length of the furniture to create balance. We usually hang items close enough to the furniture so that the two items look connected. You can hang art a little higher above desks or tables that include accessories, so that the art is not obscured by these items.
Hang it in a grouping
Another way to hang your art is to make it part of a group. Lay out your collection on the floor to find a grouping that is pleasing to you. Gallery walls can be impressive, and you don't need to shy away from them. Here are a few easy guidelines to follow when coming up with the arrangement:  Use even spacing between items and place the larger items to the center of the display. If you want more inspiration for creating a gallery wall, read our blog.
Hang it as part of a collection of furniture and items
Designers use a fancy word for hanging art together with other items not on the wall - they call it a vignette. Don't be afraid to try creating one yourself. You can start simply by hanging items above a table and chairs. Once you gain confidence with this arrangement then try combining more elements together, such as hanging art with a chair, lamp, rug or a sculpture.
Decorating, simplified™
We love making it easier for everyone to decorate their homes. Since designing our first product, Hang & Level™, we've created a full line of products that help save time, walls, and even relationships. If you are looking for an easy, secure and accurate way to hang pictures, canvas art and wall décor visit our website to learn more about our picture hanging products. 
We love designing products to make decorating easy and help people create spaces that bring them joy. Click on the live chat below or email us at: questions@utrdecorating.com, and we'll do our best to help you Create the home you love™
-The UTR Team