This Kids' Study Space Gets an A+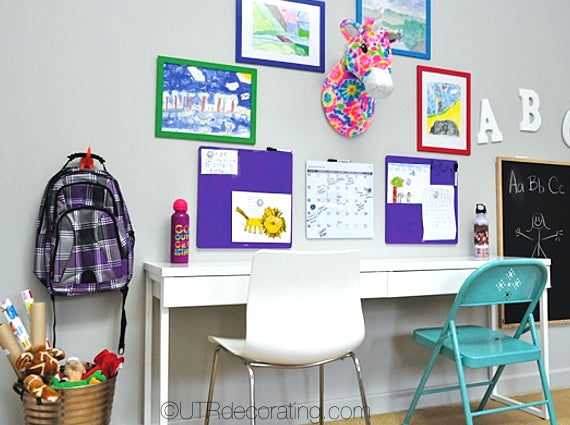 Getting ready for back to school is not only about the backpack and the clothes, it's also about carving out a comfortable place in your home for your kids to do their homework.  If you have more than one child who needs a study space, why not consider a long narrow table for them to share?
Here are my top tips to create a space that is perfect for studying:
Young kids need supervision when doing homework, so a study spot close to where the parents can easily help is key. A desk in their bedroom is more suitable for older kids.
The large two drawers in this desk keep all the essentials neatly organized while keeping the table surface clutter free — perfect for studying.
Use comfy chairs where cushions can be added for extra height. Consider folding chairs like our turquoise one if you're tight for space. Fold and lean them against the wall when they're not in use.
A magnetic board for each child allows them to personalize their own space with drawings and notes.
A calendar keeps the kids and parents organized with school and extra curricular activities.
A chalkboard is handy to practice spelling and math or just to doodle on. Make sure to hang it at your child's height, not yours.
Hooks to hang back packs and a bucket or basket for toys, posters, or art paper keep the space uncluttered.
Lighting is critical — make sure there's good overhead lighting. If not, add a desk lamp for each child or one for them to share.
Get your kids' input and decorate with artwork they've created to make it a fun space they will want to use.
The study space can play double duty: a study area during the week and craft corner on the weekends.
Hanging a fun stuffy like this unicorn adds a whimsical touch to the wall and gives the illusion that the unicorn is keeping an eye on the children.
Finally, using a three-tier utility cart as shown below helps keeping everything organized, including crayons, paint brushes, scissors, tape, and other art supplies. Placed in between each study area, the kids can share supplies and it can be easily wheeled to another area of the house if needed.
We love multi-functional furniture, so once your kids outgrow their desk table you can reuse the table in different areas of the house. Use it as a hallway table, dining room table for a small space, a home office for yourself, or as mudroom catch-all table.  Have fun with it!
Wishing all the kids a great school year!
Make sure to sign up to receive our blog posts so you can have them delivered straight to your inbox.
Liette Tousignant
I'm passionate about picture hanging and wall decorating (and I'm also the Co-Founder of Under The Roof Decorating).