This holiday season, it's all about plaid (again)!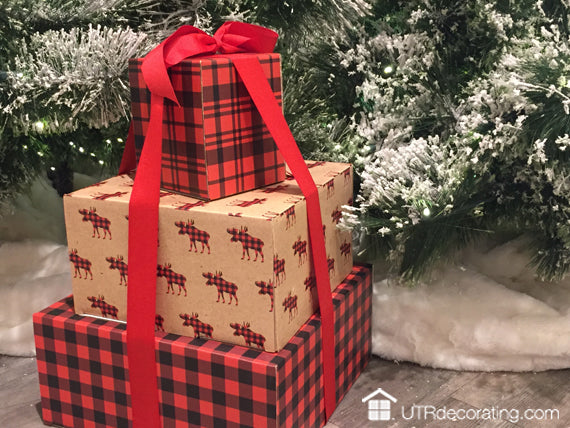 They say history repeats itself, and in home décor, that doesn't always take too long! Just last year, I wrote this article about the plaid trend gracing the shelves around the Thanksgiving and Holiday seasons. This year – it's back with a vengeance! Enjoy!
If you haven't been to the mall recently, brace yourself because you're in for a big surprise – the world has gone gaga over plaid this holiday season. Yes, this year it's all about plaid – plaid everything and everywhere.
As we know, the world of fashion influences the world of home décor, so you can blame or thank (depending how you feel about plaid) the fashion industry for this new plaid trend. In the fall of 2015, plaid shirts, skirts, sweaters, blazers, jackets and scarves began gracing the high fashion runways. As a result, home furnishing stores are bursting with plaid cushions, throws, bedding, ornaments, placemats, mugs and all kinds of plaid accessories.
Note: I took the following pictures when shopping at Indigo and Pottery Barn but this is not a sponsored post – I simply snapped a few pictures to share with you. (Folks, remember it was in 2016, so you may find similar or slightly different style and selection…but still in plaid).
Let's start with this plaid Christmas tree. This picture doesn't do it justice, it was absolutely stunning. It felt very Christmassy, cozy and traditional because it was all garnished in red and green. The plaid ornaments added that special trendy touch to make the tree shine.
The twig reindeer all dressed in plaid with tiny red velvet scarves were charming. Since all Christmas trees need a touch of glitter, the glittery snowflakes hung throughout the tree added the perfect amount of gold sparkle to brighten up the red and green plaid tree. 
If you already have lots of cushions at home, just buy festive pillow covers like these ones to add a bit of holiday flair to your space. I love how the solid red and grey velvet cushions add a calming effect to the busy plaid cushions. In fact, I would probably keep this look all winter long, it doesn't scream Christmas and it's a color combination that I find classy casual.
This bed showcases layers of trends starting with the red and black pillowcase featuring the popular Buffalo plaid (the large equal squares). The French red and white toile duvet cover with matching pillow sham is very trendy and quite festive looking too. The forever popular faux fur pillow and throw add warmth and texture to this well layered bed.
And if you're absolutely in love with the plaid trend, you'll find plaid wrapping paper and gift boxes to wrap your plaid gift with. I must admit that I quite like the gift boxes with the plaid moose printed on them. They're simple, festive and quite decorative too – I'd probably use a few of them to decorate the base of the tree with and use extra ones around the house to add a bit of a holiday touch where needed. 
The fun thing about plaid is that you can feature it in every room with different items. From dining napkins on your kitchen table, to artwork on your walls, the possibilities are endless! Have a look at some other inspiration ideas on our Pinterest board to see how you can incorporate plaid into your décor. 
If you're looking for festive art, have a look at this DIY plaid animals gallery we made using gift wrapping paper. The results are absolutely stunning.
Not everyone loves the plaid trend, but I hope this post prepares you for what you'll most likely see on your next trip to the mall.
With that said, will you spread the plaid love this holiday?
Liette Tousignant
Co-Founder of Under The Roof Decorating