The ottoman: the hardest-working piece of furniture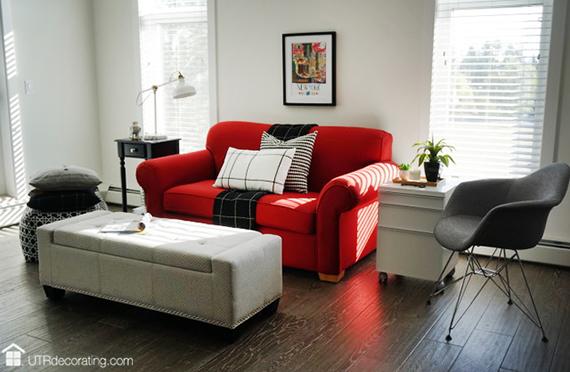 Need a place to sit? Check. A spot to stash your candles? Check. How about a coffee table to convene around? Check, check, check! The ottoman has got you covered! When you live in a small space, every single square inch counts! That's why having multi-functioning furniture is a must. *Written by Liette, Co-Founder of UTR.
In my daughter's super tiny condo, the living room, kitchen, office and laundry room is all in one room. To make the most out of the little space she has, I bought an ottoman with loads of storage capacity. It will primarily be used as a coffee table (with storage), and act as a comfy seat when company comes.
Because I'm a practical thinker (sometimes too practical), of course I picked an ottoman fitted with a neutral fabric so that when my daughter gets tired of it, I can bring it to my house. The fabric is light grey and white with a small pattern, and the lid is tufted with a silver nailhead trim finish. It's neutral enough that it will easily fit with any décor. It's versatile, that it could be used in an entryway to store shoes or extra clothing, in a master bedroom to hold extra blankets and pillows, and in a family room to hide kids' toys.
The ONLY problem with the ottoman is that the inside lining (top & bottom) is pitch black, which makes it difficult to quickly find things. Ladies – it's just like trying to find a black wallet in a black lined purse. Next to impossible!
I took this picture during the day, and still needed a flashlight to check what was inside – and guess what??? I found the black sweater my daughter borrowed a few weeks ago.
Talk about a win-win!
Anyhoo, since the main purpose of the ottoman was to store small stuff, I needed a smart storage solution. I ended up buying 2 sets of 6 small collapsible box organizers at IKEA. They come in 3 different sizes which was perfect to store all kinds of odds and ends.
The boxes are made of polyester and reinforced polypropylene, which means they are flexible, making it easy to fit as many as we needed. We were also able to play around with the configuration until we found the perfect layout. We ended up using 9 of them. You wouldn't believe the amount of stuff we were able to fit in. I should have taken a picture of all the things that were on the floor. Darn!
Ta-da! Everything is so neat and tidy and it's easy to access. The white baskets reflect light and make it easy to find anything in the daylight or at night. It was absolutely worth the $20 I spent.
Hot tip: make sure to buy boxes that are light in color to brighten up the interior of your ottoman.
What kind of stuff did we store in the ottoman? From the left: Xmas lights and ornaments, rolls of lint tape and masking tape, DVDs and CDs, tea lights and votive candles, small photo albums, an extension cord, party supplies (straws, drink umbrellas, plastic cutlery and glasses) and on the bottom right: an assortment of cookie cutters….and there's room for even more stuff.
Do you have any easy storage ideas you want to share? I'm listening, tell me about it in the comment box below.
Thanks for dropping by!
Liette Tousignant
Co-Founder of Under The Roof Decorating