The easiest and fastest way to hang a canvas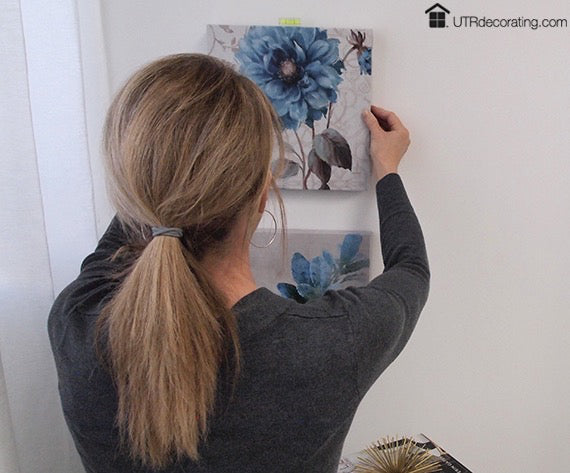 Hanging one canvas on its own is usually pretty straightforward. Where things get complicated is when you want to hang a group of them together. The thought of lining up three or more canvas in a perfect row is unthinkable for most of us. We fear making a bunch of extra holes in the wall before getting the right look. That is, until now. We've designed hangers that take all the frustrations out of hanging one or multiple canvases, therefore allowing you to be creative with your wall displays.
Meet our CanvasHangers. It's a small white bracket that fits in the corner of a canvas. Place one in each top corner and secure it by hammering the outer pins into the frame. 
This short video shows how to install the CanvasHangers and how easy it is to create different looks without having to measure anything. https://www.youtube.com/watch?v=lVJesxDYQ3U The yellow mini level shown on top of the canvas comes with the CanvasHangers. The low-adhesive tape on the bottom gently sticks to the canvas without damaging it. Simply peel off the backing (be sure to save it) and place the level in the middle of the frame. Once the bubble is centered, your canvas is level and ready to push into the wall to hang it. It really is that easy.
I've hung lots of canvases since I started Under The Roof Decorating 15 years ago, so when it came the time to design our very own tool for hanging canvases perfectly, there were a few problems we knew we wanted to solve.
The canvas must sit flush against the wall – the sight line is seamless when hanging a grouping. None of the canvas tilts forward.
Hang straight on the wall. Because most canvases are light they tend to go crooked – with a CanvasHanger in each top corner it keeps them forever straight.
Easy to hang a grouping of canvases. The hangers make it easy to visually line up two or more canvases in a row.
Hanging a large canvas can be awkward because often it's as wide as your arms can spread open – simply push one CanvasHanger in place, level, then push the other corner in.
Now, when I hang a canvas I don't need to mark my walls. There's no need for complicated measurements which is good because math is not my strong suit….sigh! One less thing to worry about when I'm hanging pictures. CanvasHangers come in one size that fits all canvases, and you can buy them directly from our online store.
Thanks for dropping by!
Liette Tousignant Co-Founder of Under The Roof Decorating Make sure to sign up to receive our decor and design blog posts delivered straight to your inbox.