Spruce up your walls with these 12 easy art projects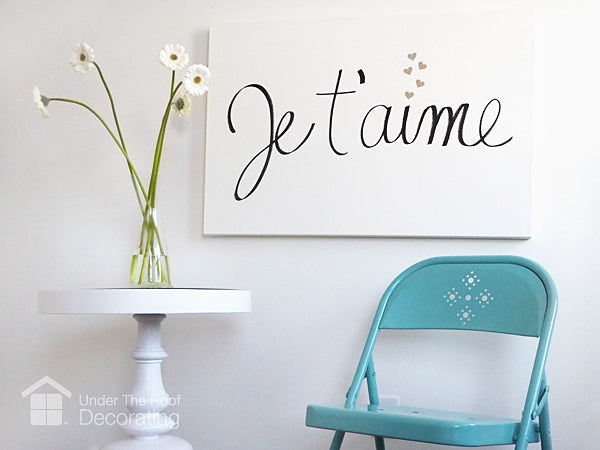 Two of the questions I get asked the most often are "what can I hang on my walls" and "how can I do it inexpensively?" I'm a true believer that art doesn't have to cost a fortune to look good. So whether you're decorating your first home, first apartment or if you've just repainted your walls and are looking for an inexpensive way to spruce them up, you'll love these easy art projects.
Make your own canvas art 
If this canvas could talk, it would tell you that it's been painted over and over again quite a few times. It's all about up-cycling. The sky's the limit in terms of what to write on your canvas; since I'm French, "Je t'aime" seemed perfect for my project. This DIY is super easy to do, requires very few things and makes a great affordable piece of wall décor. See the "how to" steps right here.  
Bringing a tiny bathroom to life with art
Since our art budget was very tight, we decided to make our own art for this small bathroom. We made five images in total: a hair brush, two different styles of comb, a blow dryer and bobby pins. The look is fun, creative and so bathroom-friendly. You can see our tiny bathroom here, and download the art for free at this link. 
Create the perfect gallery wall with animal silhouettes
I've put together this "how-to" to make it as easy as possible for you to recreate this gallery look in your own house. Our  visual designer, Katelin, made these floral animal silhouettes; we love them so much that we've made them available to download for FREE on our website. The animals are colorful, they add life to our otherwise grey and white office space and they're playful – the right vibe for the space. There's so much more to see right here.
Turn your vacation photos into pieces of art for your walls
You're back from holidays with hundreds of great vacation photos, but what happens to those precious snaps once you're home? I used to forget about them, only showing them off occasionally when asked about my holidays. Well, it was time for a change and I decided to show off my favourite vacation photos for everyone to see. The results are amazing! Check it out here.
Displaying kids' art
Not long ago I framed and hung some of my girls' art pieces in inexpensive IKEA plastic frames. They add color to the room and they're safe if they accidentally crash to the floor. Even though my girls are all grown up, they love seeing their masterpieces hanging on the wall, and so do I. Click here to see the makeover. 
Map out your blank walls
Decorating with maps is a creative way to decorate walls without spending too much money. I listened to my own advice and added style to a big wall without a big price tag.  I picked up these maps at my local tourism office and inserted them into black IKEA frames. In addition to looking great, they're extremely handy when showing our guests the lakes and tourist attractions around our cottage. Tour this room here. 
Is it time for a new wall display?
Decorating with clocks is an easy way to inject style into a space without spending much money. Here's a cool wall display I created using clocks I've accumulated over time. Since I had an odd number of clocks, I lined up the middle one with the desk and hung two on either side. I displayed the vintage clock in the middle because it was the largest, and also because it was the only one with a yellow background – two great reasons to place it center stage. Continue reading here.
Red & black checkered wrapping paper art
My love for red and black plaid (buffalo plaid) was the inspiration for the artwork. It's a fun pattern and since this apartment is in the woods on a ski hill where there's lots of wild life, large animals silhouettes were the perfect theme for this bathroom. I combined those two loves: Plaid + Wildlife = plaid animal silhouettes. See this wallpaper art project right here. 
Beautiful prints from an arts & craft book
I was at Michaels and spotted this paper pad of beautiful prints. I flipped through it and bought it right away because I knew right then that I could turn the print into a great DIY – and I did. I created a very simple but yet very beautiful gallery wall using pages of the print book. Click here to see my gallery wall.
Wallpaper design lovers delight
We had leftover wallpaper remnants from a bedroom we decorated earlier this year, which were perfect to make some unique artwork. We gathered some small white frames we already had and replaced the pictures with our wallpaper scraps. We used adhesive spray to mount each piece we had carefully cut like we did in this blog post. Using all white frames against the grey walls creates a fresh, crisp, and cohesive look. Have a peek. 
Thrifty chic décor – straw hat wall
All these hats used to sit on a shelf in the front closet of our family cottage. In addition to taking up valuable space I was afraid they might get damaged so I decided to create a hat wall. It took only minutes to hang the hats, and they add texture and depth to the wall. I love the fun beachy vibe they create. See all the hats here.
Fill a blank wall with a framed poster
If you're looking for a stylish and affordable way to fill a blank wall, frame a poster. You'd be surprised at how quickly it will add style to your space with minimal effort and money. For example, this Paris poster that had been sitting in my daughter's closet for years became the surprise inspiration for her bedroom refresh. Click here to see how I pulled this look together.
Which art project is your favourite? I'm curious. Drop me a note in the comment box below.
Thanks for dropping by and have a great summer.
Liette Tousignant
Co-Founder of Under The Roof Decorating
Make sure to sign up to receive our decor and design blog posts delivered straight to your inbox.