Holiday Decorating Idea: Outdoor Tree Ornaments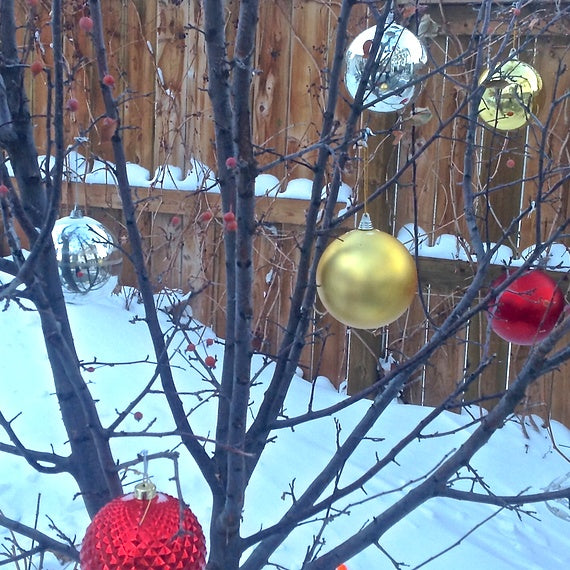 If you have a view of the backyard from your kitchen, living room, or another spot inside your house that you spend a lot of time in, this is a fun decorating idea that can be enjoyed both indoors and outdoors. Perhaps you've noticed a recent trend towards really large tree ornaments in your favorite home décor stores. These chic oversized ornaments might be too big for an indoor tree, but they're perfect for an outdoor tree. We've been doing this at our house for years, and every year we're impressed with this five-minute deco tip.
Get five or six large ornaments — there's no need to fill the whole tree in order to make an impact. We went with red, silver and gold, all classic holiday colors that will never go out of style. We bought them in both flat and shiny surfaces, so that the different ornaments will reflect the daylight in different ways, which makes for a very pretty effect. Before you start hanging, stand at the window from inside your house to determine the best placement for the ornaments on your outdoor tree.  For us, there's no need to hang the ornaments high in the tree, it's preferable to keep the balls hanging low so we can see them all from our dining room.  It's also easier to hang them if you don't go too high, as there's no need for a step stool or ladder.
On the day we placed them there was no snow on the ornaments, but by the next morning they were covered with fresh white fluffy snow. We love this look so much that we keep them in our tree all winter so that we can enjoy them all season long.  Since we chose a tree in the backyard, no one can see them but us.
To install the ornaments on the tree, use a twist tie to attach each ornament to the branches so they won't blow away with a strong wind, and also so that they're easy to remove once the season is over.
 Do you have any quick holiday projects or tips that you'd like to share?