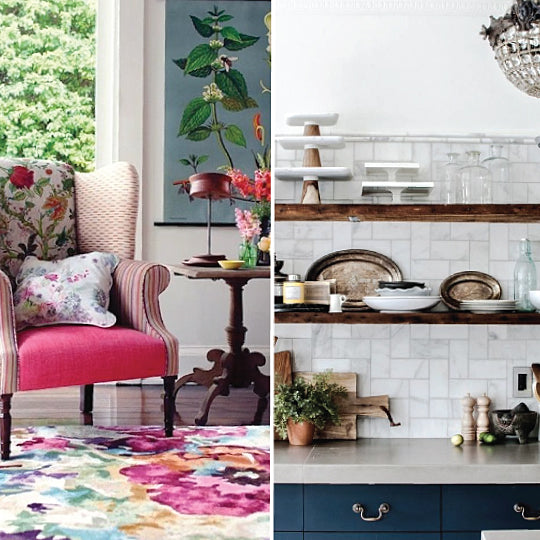 Do you want to know if grey walls, faux fur throws or orange pillows will still be on trend in 2016? I've searched high and low to get a sneak peek of what to expect in the home fashion world for next year. Here's what I've discovered.
Starting with paint color trends for walls, two of the top paint companies in the USA – Benjamin Moore (BM) and Sherwin Williams – have already chosen their color of the year for 2016. Or should I say their lack of color, because surprisingly they both picked white. Does this mean we're keeping our interiors white and adding color with accent pieces?
Benjamin Moore's color of the year for 2016 is Simply white OC 117. I'm not completely surprised by this announcement since BM is renowned for its popular shades of white. We've all heard of  Cloud White, right? The company says that Simply White is a versatile and timeless color. "With the popularity of white, it was inevitable that we would ultimately recognize white as our Colour of the Year." Image courtesy of Benjamin Moore.
And Sherwin Williams' 2016 color of the year is Alabaster SW 7008– described to "offer a sense of personal solace and revival to weary minds. It is the true neutral to set the tone for 2016."  The first thing that came to my mind to visualize the color was alabaster skin. A chic, classy, beautiful, healthy glow/look. I believe that's what Sherwin Williams wants to accomplish with their color choice. Image courtesy of Sherwin Williams.
When I started writing this article, my intent was to write about trends that started in 2015 and will continue to grow in popularity in 2016. I then stumbled upon 2016 decorating trends you should know about and thought I'd share it with you, since I completely agree with its author. Trends that you've most likely noticed in 2015 include large floral prints (wallpaper, furniture fabric, carpets), navy blue kitchen cabinets, light pastels for the walls and "real" greenery in our homes to bring the outdoors indoors. Think terrariums and succulents. Images courtesy of Design Sponge.
Although no one has a crystal ball, here's what some of the top editors of leading magazine House Beautiful are predicting. Trends include pretty pendant lights, bed sheets with pizzaz, mixed metals (platinum, gold, copper and steel), blue and white everything, and colorful textiles and leather goods. Image courtesy of House Beautiful.
Does all of this mean you need to get rid of all your stuff? Definitely not; it's only a matter of time until your collected treasures come back on trend. House and Gardens magazine talks about trends that are coming back. Things I never thought we'd ever see again are back with a vengeance: shag carpets (with a few tweaks), macrame hanging planters, skirted tables, wood paneling and more beauties from the 70s, 80s and 90s. Image courtesy of Better Homes & Gardens.
This January I'm heading to the NY Now Market. It's the perfect place to see what's new and exciting in home and lifestyle trends. So stay tuned; I'll confirm if the predictions made are confirmed, and I'll share photos of some the best yet to come in 2016.
According to your crystal ball, what are your home décor predictions for 2016?
Follow us on Instagram for daily photos we post about decorating. See you there!