Should I hang my picture a little higher or lower?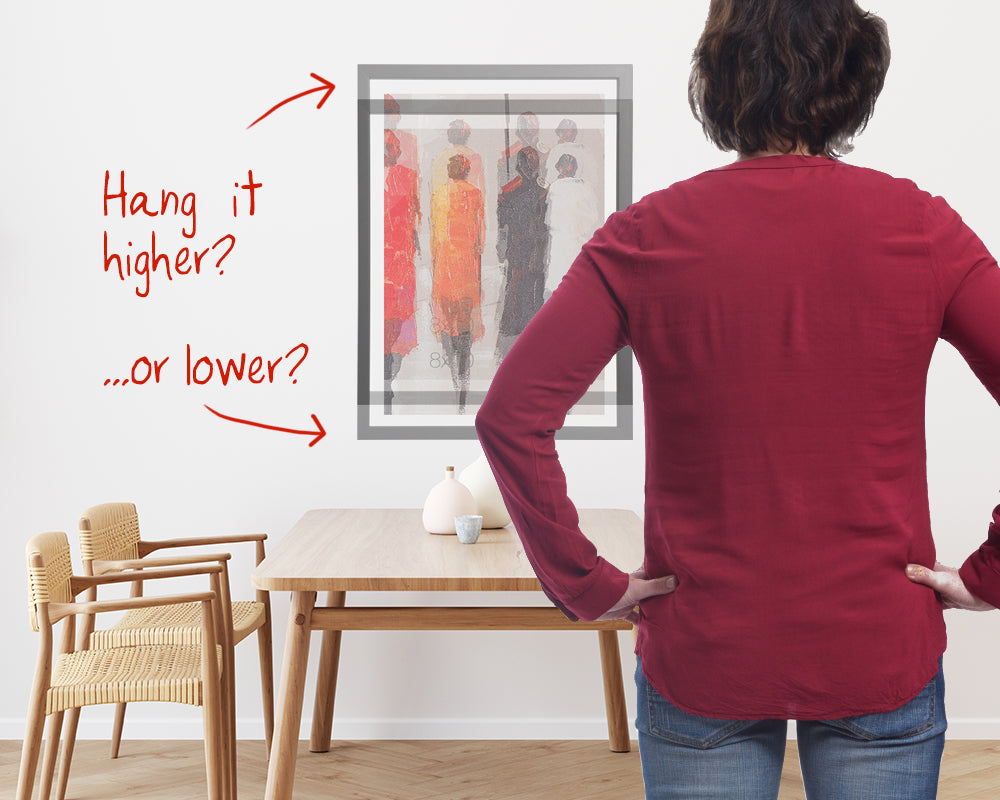 Despite our best efforts, sometimes when you hang up your picture and step back for a look, you realize that it's still not exactly where you want it. No worries - you can fix it. So if you are unsure if you have the right spot to hang that picture what do you do? 
Is it better to start by hanging a little lower or higher?
Hang your picture a little lower
If you are uncertain where you want to hang the picture, then hang it a bit lower at first. 
Most hanging hardware is at the top of the picture frame or wall decor item. If you hang your frame too high and then have to move it down, you risk having the original hole show when it's in the new position. But if you hang the item a bit lower to begin with, then you can always move the nail up - and the first hole will be hidden behind the picture!
Tip: If you have extra holes, this blog post is packed with easy tips to fill picture hanging holes in drywall - read the post. When you see how easy it is to make a fix if a mistake happens, you'll be less worried about getting started.
Hang & Level™ marks exactly where to put the nail
We know that many people find picture hanging challenging. With Hang & Level, you'll never have to worry about mistake holes again. Check out our full line of products we designed to simplify the decorating process. 
We love designing products to make decorating easy and help people create spaces that bring them joy. Click on the live chat below or email us at: questions@utrdecorating.com, and we'll do our best to help you Create the home you love™
-The UTR Team