Shopping for design inspiration in Montreal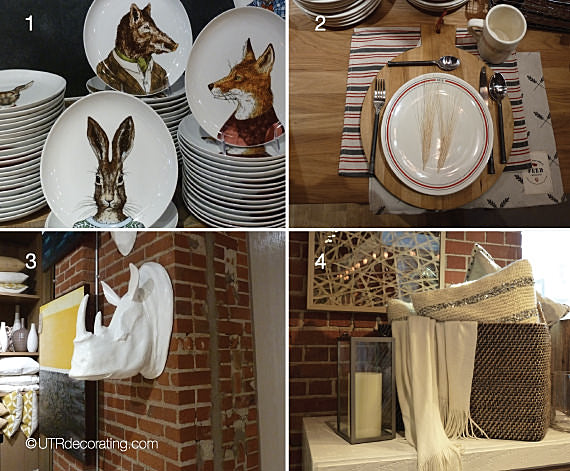 On a recent trip to Montreal to visit family and friends, I also dropped by my favorite design stores, West Elm, Item, and Zone. I love these stores. They sell unique things and the displays are gorgeous, plus they're always a real source of décor inspiration for looks you can recreate in your own home. Here's a sample of some my favorite things that caught my eye and my credit card too. Yikes!
1. Starting with West Elm store, I saw these children's themed plates they reminded me so much of Alice Wonderland and other stories I used to read to my kids. The well-dressed animal plates are based on paintings of real animals, they're made of porcelain, and I think they'd be a big hit at a dinner with adults to reminisce about childhood stories.
2. I love this earthy-looking place setting with strands of raw wheat casually displayed on the plate. The layered look is very trendy right now — as opposed to using a simple place mat, the dinnerware is set on a solid maple cutting board, which is then set on two linen tea towels. This is all by the company FEED, whose motto is "Feed your spirit." The best part of buying any FEED product, is that with all items purchased the company donates meals to families in need in the USA. Two thumbs up FEED!
3. Yes, the faux taxidermy trend is still going very strong. In the last couple of years we've seen faux animal heads of various kinds appear on walls and made of all types of materials. This white Rhino is handmade by artists in Port-au-Prince, Haiti entirely from recycled materials. When hanging on walls, animal heads add a three-dimensional look and a bit of a whimsical element too. Hang one on its own, or insert it within a group of frames to jazz it up or to create a real conversation piece.
4. If you need one basket, this is the one to invest in. It's a functional and stylish catchall basket that fits in any room of a home, office or cottage. It is hand woven and stained in black to highlight its rich texture, and is sturdy enough to hold magazines or books, or to use to store cushions and throws. When summer comes, use it as an oversized bag to go to the beach. I'd definitely call this a "passe-partout" bag.
The next store, Item, is a must see if you go to Montreal. It's spacious, filled with natural light, has beautiful stamped concrete floors, and is located in trendy Griffintown near the West Elm store mentioned above. I love this store because it sells unique things that you simply won't find anywhere else.
1. I had never seen these kimono-inspired aprons before; they're so stylish that I swear it would make you want to cook more. The coolest part is that each apron is sold in a large mason jar like the ones displayed on the shelf, tied with a piece of raw cord.
2. These oversized wooden cutting boards are handcrafted in Hungary and made of wood salvaged from old buildings throughout Europe. Each piece is hand-finished in natural beeswax or mineral oils. Just make sure your countertop is big enough to hold such a large board!
3. These pear-shaped bean bags come in a variety of bright colors and are fun pieces of furniture that act as comfortable seating and casual décor, perfect for a TV room, kids' room, basement, or wherever else you need a place to perch. I loved how they were displayed both on the floor and from the ceiling.
Zone Maison on rue Saint-Denis Street is another gem of the décor accessories scene in Montreal. Unlike the two stores mentioned above, Zone spreads out over many levels with lots of nooks and crannies filled with decorating treasures.
1. I love the outdoors, so anything made of natural wood gets my attention. These birch stained coasters are perfect to add a touch of the outdoor into any interior and they're an excellent eco gift idea for people who love anything organic.
2. Finally, I found these small faux fur stools that are great to pull up to a coffee table when extra seating is needed. They're practical as well as stylish, and because of their size they can easily be nested under tables or left by the front or back door to be used when putting on your shoes. Small, practical, stylish, and so darn cute.
I hope you enjoyed shopping with me in beautiful Montreal. Au revoir et à bientôt.
Liette Tousignant
I'm passionate about picture hanging and decorating (and I'm also the Founder of Under The Roof Decorating)
P.S. If you have any questions, don't hesitate to ask, we'd love to help you!