Reflections: a strategically placed mirror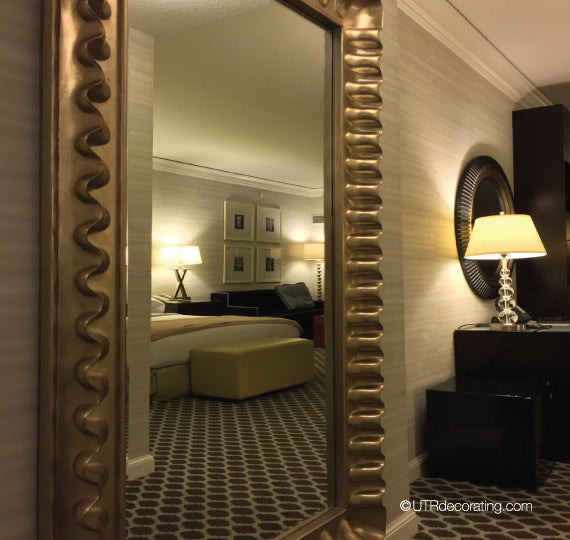 I took this picture at a hotel I recently stayed at because the ornate mirror made such a good first impression on me when I walked into the room. It was strategically placed to reflect a beautiful view and natural light during the day, and to create a soft peaceful glow of the bedroom at night. Right across from the mirror, there was a closet, which made it very convenient to quickly finalize an outfit before heading out. The mirror was hanging on the left side of a narrow hallway by the main door, which made the room look so much more spacious than it actually was. It truly opened up the small space. I give this room five stars simply because this oversize mirror created an unexpected dramatic entrance to a very elegant room.
When hanging such a large scale mirror, make sure to use the right hardware to prevent the mirror from crashing to the floor. You'll find other articles about decorating with mirrors at the bottom of this page, which will give you all the tips you need to hang mirrors safely and securely.
If you have any questions about picture hanging, don't hesitate to ask. We'd love to help you!
Liette Tousignant
I'm passionate about decorating and I'm also the Founder of Under The Roof Decorating