Pretty pastels create a relaxing atmosphere in the bedroom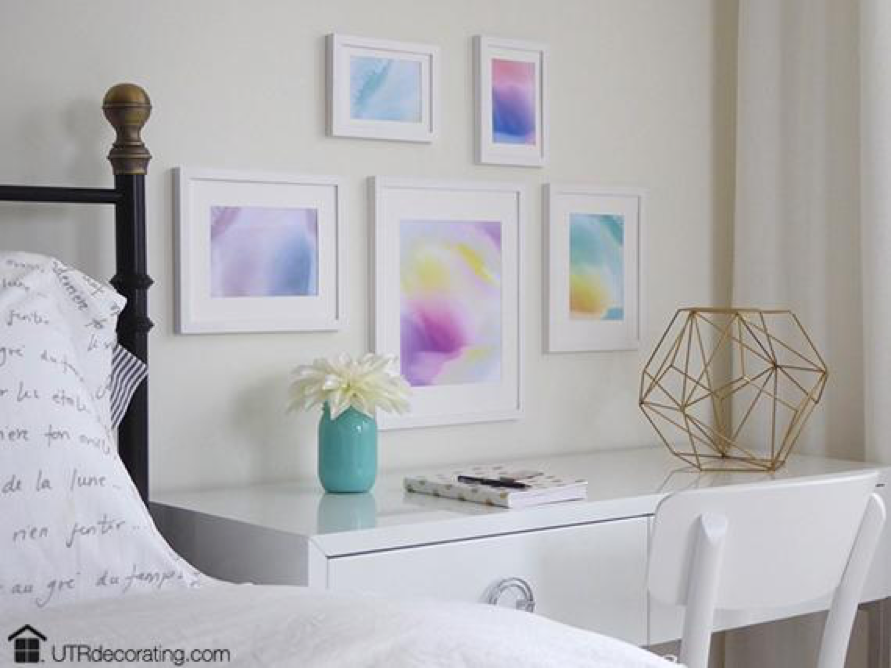 *Written by Liette Tousignant, Co-Founder of UTR Decorating
Deciding what to hang in a bedroom can be a real nightmare. What color, what theme, what size of art, how many pieces and what's the overall feeling you want to create. When redecorating my daughter's bedroom, I chose pretty pastels to create a peaceful bedroom atmosphere. 
The small bedroom is all white with mostly white furnishings with the exception of the bed frame that is black. The small desk area by the bed was the space that needed a bit of design help. It looked blah, boring, and felt completely uninspired.
The pastels were definitely the answer. They add color, energy and freshness to the room without ruining the serene feeling I was after.
I often get asked in which order I hang each frame.
As shown in the picture, I started by hanging the middle frame, then the one on the right, the left, top row the frame on the left, then right. Done!
As for accessories, I kept everything light and uncluttered. I picked a pretty turquoise vase to enhance the same color found in frame #2 which helps balance out the colours on either side of the wall display. The large brass hexagon is see-through which lets the art peek through and feels light and airy. The brass mixes well the with the nickel drawer pulls. 
Here's the evolution of the display as I was hanging each frame. 
How to hang each frame
I used our Hang&Level picture hanging tool to hang each frame – it worked like a charm. The mini level helped ensure each frame was level as I was hanging them. In order to keep the space even between the frames in the bottom row, I used our SpacingStrips, they're 2″ long, which was the perfect spacing to leave.
I lined up the tops of the frames from the bottom row, and centered the top frames with the bottom ones to equally distribute the size of each frame on the wall.
I hung a group of small picture frames versus only one large frame to create movement on the wall, I find the overall look quite lively.
I'm glad to have used abstract work because it allows me more flexibility when hanging each frame. If I decide to move the frames to another room of the house, I'll be able to use the frames either vertically or horizontally without having to change the art.
I usually crave pastels in the Spring, but since my goal was to use wall décor to create a soft and relaxing space to guarantee a good night's sleep, the pretty pastels were definitely the right colours to pick. Since hanging the pastel frames, I've named this space the rainbow room. 
What's hanging on your bedroom walls?
Liette Tousignant
Co-Founder of Under The Roof Decorating
Make sure to sign up to receive our decor and design blog posts delivered straight to your inbox