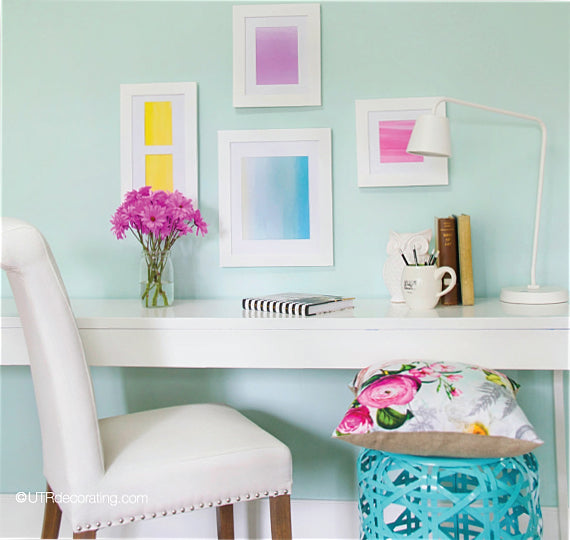 After a long cold winter, I was ready to freshen up my workspace with pretty pastel colors. I'm not usually a fan of soft candy colors, but I was inspired by the April issue of the Oprah magazine and decided it was time to inject some pastels into my life.
A change of seasons is a great excuse to shake things up and to transform your décor quickly and inexpensively. We started by painting a feature wall with Benjamin Moore Antiguan Sky which instantly brightened up the space. We made our very own artwork using colored pastel paper bought at Michaels and inserted it into white frames we already had. Swapping artwork is an easy way to change your décor for the holidays or as the seasons change.
As shown in this video we hung our picture frames by keeping the spacing consistent between each to keep the look calm and relaxing.
The combination of the white IKEA desk, lamp, chair and picture frames creates a bright fresh and feminine feel for the space. The trendy floral pillow and turquoise stool give the room the right punch of color and elegance. And of course, a vase of fresh flowers is always a perfect finishing touch for any room. I love my newly transformed space; the soft pastels were the perfect choice to transition my office from winter to summer.
P.S.  If you're looking for more great design inspiration, I'd suggest Erin Gates' Elements of Style, the book featured on my desk. It's packed with top-notch design.
Will you be decorating with pastels this summer?
Liette Tousignant
Co-Founder of Under The Roof Decorating