Budget-Friendly DIY Artwork That's as Easy as 1-2-3!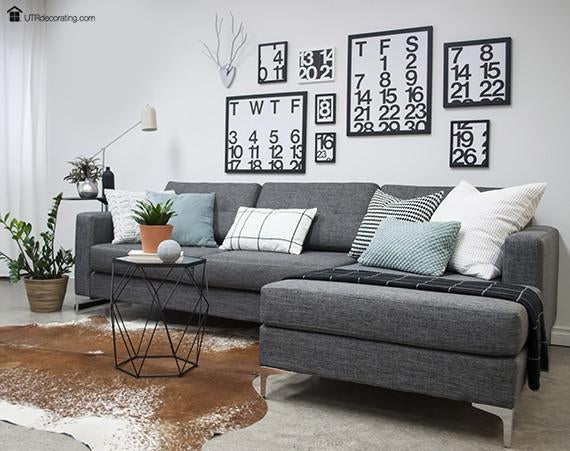 *Written by Liette Tousignant, Co-Founder of UTR Decorating
So here's the thing – I'm terrible at math, yet I love numbers! I especially love giant block numbers like these. Believe it or not, I made this modern looking art with pages ripped from my favorite Stendig calendar. This calendar is so beautiful (a piece of art in itself) that I couldn't bring myself to throw out the "expired" months, even after so many years! So I thought I could recycle it by framing parts of it. That's how the idea for this gallery wall came to be, and I absolutely love the results. I re-used frames that I already had, and most importantly it's one of a kind art. 
This is an old calendar – it's a good thing I saved the pages because I used them to create my black and white gallery wall. It really pops, don't you think? 
Notice how each month's background alternates between black and white. November was in white, December in black, back in white for January; you get the idea. It's a simple feature, yet so classic and cool. It feels like my office walls get a mini-makeover every month.
Each time I tear a month, I roll up the page and put in a metal bucket. The rolled up pages look pretty cool and make a great accessory for the house, or in my case, my office. P.S. If you want to find out more about this ultra chic calendar, its size and where to buy it, go here. By the way, this is not a sponsored post, I'm just sharing because I truly love it.
Here's what my wall and couch looked like before starting this project – grey and drab.
Let's get started, here's what I used to make this cool art:
Calendar paper
Long metal ruler
Cutting mat
Utility knife
Pencil
Adhesive spray
How did I do it: 
First, I gathered frames that I already had and could reuse for this project. Since the sectional is quite big, I looked for different sizes and frames that were big enough to fill a good chunk of the wall.
I played with each frame (without the glass) against the white calendar to find interesting parts to frame. As shown on the picture below, each frame has a different look.
Using a pencil, I traced the inside edge of each picture frame.
Next, I cut the paper with a utility knife.
I gently sprayed directly on the backing (not the paper) – don't over spray because your art will get wet. Don't forget that once the glass is in place it will hold everything nice and tight.
Stick the top first, then press down on the rest of the page smoothly.
Lastly, insert the glass – make sure there's no lint stuck on your art before pressing down all the metal clips. That's it!
Ta-da! Pretty cool isn't it?
When I created this gallery wall, I didn't measure anything, it was pretty much freestyle hanging. I'll walk you through the thought process to hang each piece. Don't worry, there's nothing complicated, just tips such as how to get a balanced look and how to get started. 
Since my walls are all white, I chose black frames which make white pages pop against the wall. But the possibilities are endless, you could go with:
Black frames with black calendar
Black frames with white calendar (like I did)
White frames with white calendar – it would look terrific on a colored wall
White frames with black calendar
A combination of black and white frames – or all mixed – which is a good way to use frames you already have.
What I've learned:
When tracing and cutting make sure the numbers (or other pattern you choose) are straight. If they're crooked, they'll look crooked on the wall even if your frames are hanging perfectly straight.
If you choose black paper or any dark colored paper, use a white pencil, regular pencil is hard to see.
Protect your table with newspaper or other paper to avoid getting adhesive spray on it.
I had not planned to hang the antlers, I just felt that a 3D element was needed to jazz up the wall and break up all the block letters. What do you think?
Accessorizing
Since the artwork is quite busy, I accessorized my sofa with a combination of solid colored cushions and added texture. The seafoam (light blue/green) cushions add softness to the otherwise black and white combination. 
There you go, an affordable multi-purpose calendar that turned into unique artwork for my walls. I call this smart decorating.
What do you think of my DIY modern art? If you've made some of your art too, please share with me. I'm always looking for unique wall displays to share with my readers. Let me know your thoughts in the comment box below. 
Thanks for dropping by!
Liette Tousignant
Co-Founder of Under The Roof Decorating